For sales inquiries,
please contact us at:


sales@thecus.com
For marketing inquiries, please contact us at:


marketing@thecus.com
2008-10-31
N4100PRO and N7700 shown at Austria's largest industrial trade show

10/31/2008 – From October 7th to 10th, Vienna-Tec 2008, Austria's largest industrial trade show, welcomed visitors from all over Europe to Vienna's Congress Center Messe Wien. Nearly 35,000 showgoers were dazzled by the 60,000 square foot facility, which featured booths and displays from 708 exhibitors. Exhibitors from 25 countries came to the show, making it by far the largest show of its kind in Austria. This year, Thecus and Add On came to the prestigious event to display the latest advances in digital storage, including the revamped N4100PRO and the all-new seven-bay N7700.
The N7700 from Thecus brings together the latest technologies into a single compact unit. Headlining is its whopping seven SATA hard disk bays that accommodate up to a massive 7TB of storage. If that isn't enough, the N7700 also comes equipped with an eSATA port where users can install yet another SATA hard disk. To manipulate all of this data quickly, the N7700 packs an Intel® Celeron™ M processor and a full gigabyte of DDR memory, which allows for more concurrent connections and quicker system response.
Also at the show was the Thecus N4100PRO. Powered by an AMD Geode LX800 processor and 256MB of DDR400 memory, the N4100 PRO delivers the raw horsepower required to transfer files quickly and efficiently. With updated hardware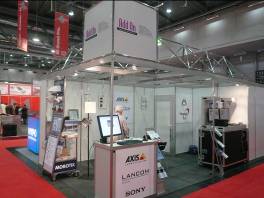 and a ton of performance improvements, the N4100 PRO is capable of data transfer speeds of up to 35MB/sec – double that of the original N4100! To top it off, the N4100 PRO comes equipped with a big, bright LCM module, which displays useful status messages such as IP address, date and time, and RAID status, making it easy for users to keep an eye on the condition of their N4100PRO.
"Vienna-Tec 2008 represented yet another successful event for Thecus to display its latest storage innovations," said Florence Shih, Thecus General Manager. "We were thrilled to be there with our partners Add On, and are looking forward to our next collaboration!"
For more information on Vienna-Tec, go to:
http://www.vienna-tec.at/
---
About Thecus

Thecus® Technology Corp. specializes in IP Storage Server solutions, including Network Attached Storage (NAS) and Wireless Media Bank products. The company was established in 2003 with the mission to make technology as transparent and easy-to-use as possible, and to make products that are not only the best on the market, but are accessible to experts and novices alike. With a best-in-class R&D team highly experienced in storage hardware and software and with a keen customer focus, Thecus® stays close to the market to develop high-quality products to fulfill the storage needs of today's world.
For sales inquiries, please contact us via email:
sales@thecus.com
For marketing inquiries, please contact us via email:
marketing@thecus.com