For sales inquiries,
please contact us at:


sales@thecus.com
For marketing inquiries, please contact us at:


marketing@thecus.com
2008-11-05
Four-bay powerhouse trounces 10 competing units in NAS roundup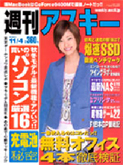 11/05/2008 – When push comes to shove, Thecus NAS units stand up to the competition with useful features and awesome performance. In their November 2008 issue, Weekly ASCII Magazine held a NAS roundup, which pitted 11 NAS units against each other. After closely examining each unit, editors discovered that the N4100PRO topped the performance charts, besting even the second place unit by a large margin!
First, editors took a look at the hardware of the N4100PRO: "The N4100PRO comes with an LCM module that displays status messages. Users can upgrade from RAID 0 to RAID 5 without losing any data, and the N4100PRO can even mount ISO files and share them across the network."
Once again, Thecus® takes the performance crown: "In order to test which NAS runs the fastest, editors tested how long it takes to copy files for each NAS. They used a 1GB file and 137 files of various sizes (total 1GB) for testing, and recorded the individual write speeds from PC for every NAS. Editors set RAID 1 for the 2-bay NAS units, and RAID 5 for the 4-bay NAS units. Jumbo Frame was disabled for all of them. Among all the NAS products, the N4100PRO was top of the performance test, no matter in write or read test, and especially for single file transfers."
For the full review, check out the November 2008 issue of Weekly ASCII Magazine.

For more information on the N4100PRO, check out:
http://www.thecus.com/products_over.php?cid=10&pid=77
---
About Thecus

Thecus® Technology Corp. specializes in IP Storage Server solutions, including Network Attached Storage (NAS) , DAS, External Storage and Wireless Media NAS (Bank ) products. The company was established in 2003 with the mission to make technology as transparent and easy-to-use as possible, and to make products that are not only the best on the market, but are accessible to experts and novices alike. With a best-in-class R&D team highly experienced in storage hardware and Linux software and with a keen customer focus, Thecus® stays close to the market to develop high-quality products to fulfill the storage Server needs of today's world.
For sales inquiries, please contact us via email:
sales@thecus.com
For marketing inquiries, please contact us via email:
marketing@thecus.com