For sales inquiries,
please contact us at:


sales@thecus.com
For marketing inquiries, please contact us at:


marketing@thecus.com
2008-10-24
N7700 and N8800 making their way to Congress Frankfurt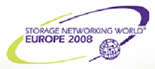 10/24/2008 – Two weeks ago, Thecus® shook the world of digital storage once again with the release of the N7700, a no-compromise NAS server featuring seven drive bays! From October 27th to 29th, Thecus® and Exsys will bring the N7700 as well as the soon-to-be-announced N8800 to Storage Networking World Europe 2008, one of the most prestigious trade shows focusing on data storage, duplication, virtualization, and other storage-related technologies. There, at the Congress Frankfurt, show goers will get to see these two hot products first hand, while also having access to over 10 informative conference sessions covering a wide variety of IT topics. Featuring over 50 of the world's leading IT suppliers, Storage Networking World Europe 2008 will be a blockbuster event for anyone in the IT industry.
Both Thecus® and Exsys will be located at the Solutions Showcase. The Solutions Showcase gives visitors an excellent opportunity for delegates to get first hand exposure on the technology areas in direct one-on-one demonstrations with participating vendors. The Solutions Showcase highlights the most current and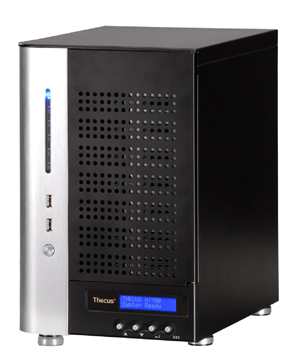 compelling areas of the data storage market where vendors will demonstrate relevant solutions to the challenges faced by end-users and add value by introducing applications and technologies that solve their business problems and show them new areas in storage and data management.
"The N7700 is our most powerful and versatile NAS server yet, and we are excited to be able to showcase it together with Exsys at Storage Networking World Europe 2008," notes Florence Shih, Thecus® General Manager. "We are happy to partner with Exsys for the event, and invite everyone in the area to come by and witness yet another groundbreaking NAS storage device from Thecus!"
For more information on Storage Networking World Europe, go to: http://www.snweurope.com/
---
About Thecus

Thecus® Technology Corp. specializes in IP Storage Server solutions, including Network Attached Storage (NAS) and Wireless Media Bank products. The company was established in 2003 with the mission to make technology as transparent and easy-to-use as possible, and to make products that are not only the best on the market, but are accessible to experts and novices alike. With a best-in-class R&D team highly experienced in storage hardware and software and with a keen customer focus, Thecus® stays close to the market to develop high-quality products to fulfill the storage needs of today's world.
For sales inquiries, please contact us via email:
sales@thecus.com
For marketing inquiries, please contact us via email:
marketing@thecus.com