For sales inquiries,
please contact us at:


sales@thecus.com
For marketing inquiries, please contact us at:


marketing@thecus.com
2008-10-22
"It's obvious that Thecus® certainly has a winner with the N3200"

10/22/2008 – The N3200 from Thecus® is garnering a lot of buzz in the community for its robust functionality and excellent performance, all wrapped up in a three-bay home NAS package. The latest review comes from HWM Magazine, who after putting the unit through careful scrutiny, found a lot to like, awarding it a score of 9 out of 10 and their coveted HWM Gold Award!
Carefully thought-out features are just the beginning: "Scheduling download tasks is something the N3200 does quite well; being able to handle HTTP, FTP and even BitTorrent downloads. This comes in great handy especially when aiming for off-peak hours where bandwidth is more easily available. Also, the fact that you can turn off your PC and let your N3200 do all the downloading is even better. Other features include a built-in iTunes server, photo server and uPNP AV server for those who like to keep all their music, photos and videos in on easily accessible location."
Superb performance was also a plus: "In terms of performance, the N3200 obviously leads the pack when used in RAID 0. One thing we can take away from the numbers at RAID 0, 1 and 5 is that average read speeds remain constant throughout, at a zippy 33MB/s, or the equivalent of 264mbps."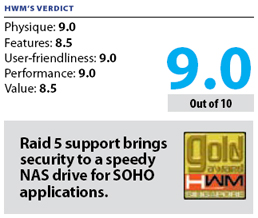 The verdict? "At the end of the day, given the option between faster overall speeds versus security, we'd have to lean towards the latter. Write speeds aren't the main concern – read speeds are - when NAS drives are usually put in place to enable stored data to be accessible across the local network. What's more, having RAID 5 functionality in place ensures that you have excellent data security while giving up just a third of your available storage capacity. Throw in the media server capabilities, ease of use its all around good looks as well as an attractive asking price of S$569, and it's obvious that Thecus® certainly has a winner with the N3200, whether for the home user or the small office setup."
For the full review, check out the October 2008 issue of HWM Magazine.
For more information on the N3200, check out:
http://www.thecus.com/products_over.php?cid=12&pid=48
---
About Thecus

Thecus® Technology Corp. specializes in IP Storage Server solutions, including Network Attached Storage (NAS) and Wireless Media Bank products. The company was established in 2003 with the mission to make technology as transparent and easy-to-use as possible, and to make products that are not only the best on the market, but are accessible to experts and novices alike. With a best-in-class R&D team highly experienced in storage hardware and software and with a keen customer focus, Thecus® stays close to the market to develop high-quality products to fulfill the storage needs of today's world.
For sales inquiries, please contact us via email:
sales@thecus.com
For marketing inquiries, please contact us via email:
marketing@thecus.com