For sales inquiries,
please contact us at:


sales@thecus.com
For marketing inquiries, please contact us at:


marketing@thecus.com
2008-10-13
Editors put together an easy-to-use, powerful media-serving network

10/13/2008 – Enjoying digital content from the comfort of your own living room is a great reason to own a NAS server, which can store massive amounts of digital content in a compact form factor. Recently, the editors of Computer Power User Magazine decided to put together a media serving setup and chose Thecus' four-bay N4100PRO to handing storage duty. In the end, editors found the entire process both easy and highly rewarding.
CPU Magazine begins by outlining their project: "For our NAS device, we opted for the Thecus N4100PRO. The Thecus N4100PRO is essentially a tiny computer, powered by an AMD Geode LX800 processor, designed specifically to act as a NAS device. The N4100PRO can accept up to four hard drives and configure those drives in RAID 0, 1, 5, 6, or 10 volumes. The unit also features a screen that displays its IP address and status of the RAID volume, which can come in handy in the absence of a PC. Dual Gigabit Ethernet ports with failover support add an element of redundancy to the N4100PRO's network connection, and it support data transfer speeds of up to 53MBps, which is plenty fast for our project."
Making technology simple and easy-to-use is one of Thecus' strengths: "Thanks to an easy-to-use interface, setting up the RAID array on the N4100PRO was as simple as selecting the drives and choosing the array type from a list (RAID 5 in our case)...Connecting the N4100PRO to the network required nothing more than plugging one end of a standard Ethernet cable into the unit and the other into the switch. Then, after powering up the N4100PRO, we logged into its configuration utility by opening a browser window on one of our PCs and navigating to http://n4100pro/, much like many of today's broadband routers."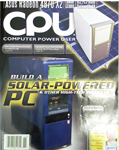 The fruits of their labor: "With the NAS volume online and loaded with some content, and the media extender connected to the HDTV and the network, we could sit back, relax, and enjoy our handiwork. We ended up with a massive network-attached volume that could hold a ton of digital content and a nifty little box that could access that content and pipe it through our HDTV (or home theater). Once configured, using everything was incredibly easy. We could simply copy whatever files we wanted to watch on the HDTV to the NAS volume and select the files with the media extender. It doesn't get easier than that."
For the full review, check out the November 2008 issue of Computer Power User Magazine.
For more information on the N4100PRO, check out: http://www.thecus.com/products_over.php?cid=10&pid=77
---
About Thecus

Thecus® Technology Corp. specializes in IP Storage Server solutions, including Network Attached Storage (NAS) and Wireless Media Bank products. The company was established in 2003 with the mission to make technology as transparent and easy-to-use as possible, and to make products that are not only the best on the market, but are accessible to experts and novices alike. With a best-in-class R&D team highly experienced in storage hardware and software and with a keen customer focus, Thecus® stays close to the market to develop high-quality products to fulfill the storage needs of today's world.
For sales inquiries, please contact us via email:
sales@thecus.com
For marketing inquiries, please contact us via email:
marketing@thecus.com