For sales inquiries,
please contact us at:


sales@thecus.com
For marketing inquiries, please contact us at:


marketing@thecus.com
2008-09-26
2008/09/26 -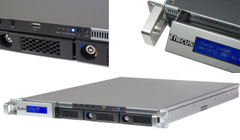 Thecus 1U4500 is an extremely well-received rack-mount storage device by users and IT media worldwide. It is regard as the best of its category. With four SATA hard disk bays, an optional redundant power supply, advanced configuration features, and a handy LCD display, the 1U4500 brings Thecus' proven data storage technology to a 1U rack-mount form factor. For its huge storage capacity under high level of data protection and outstanding performance, 1U4500 is recognized as one of the most desirable digital storage solution for offices to store valuable data. Now, to provide better service and technology, Thecus is releasing new firmware to enhance current functionality. With the latest firmware, additional features can be added to 1U4500 via module manager to expand capability. Latest firmware for 1U4500 series is available at Thecus official website Download Center.
One of the Thecus trademark services for users is the module manager. Thecus maintains great relations with the third party community. Thus, advanced users put together a platform (Thecus Wiki) for worldwide users to exchange modules to expand functionalities on Thecus NAS. For 1U4500 series, modules are available at Thecus Wiki 1U4500 Resources.
Looking for more applications on Thecus 1U4500 series? Look no more. Module manager is at your service through the latest firmware and enjoy functionality expansion service at Thecus Wiki 1U4500 Resources.
For more information on the 1U4500, check out:
http://www.thecus.com/products_over.php?cid=11&pid=26
---
About Thecus

Thecus® Technology Corp. specializes in IP Storage Server solutions, including Network Attached Storage (NAS) and Wireless Media Bank products. The company was established in 2003 with the mission to make technology as transparent and easy-to-use as possible, and to make products that are not only the best on the market, but are accessible to experts and novices alike. With a best-in-class R&D team highly experienced in storage hardware and software and with a keen customer focus, Thecus® stays close to the market to develop high-quality products to fulfill the storage needs of today's world.
For sales inquiries, please contact us via email:
sales@thecus.com
For marketing inquiries, please contact us via email:
marketing@thecus.com