For sales inquiries,
please contact us at:


sales@thecus.com
For marketing inquiries, please contact us at:


marketing@thecus.com
2008-10-01
The do-it-all home NAS wins Highly Recommended, Great Idea Awards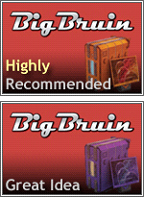 10/01/2008 – If you're in the market for a powerful yet flexible NAS device for the home, the N3200 from Thecus deserves your serious consideration. The folks over at Big Bruin recently tested one of these devices, and in the end, gave it not one but two awards – their Highly Recommended and Great Idea Awards!
Editors noticed right away how flexible the N3200 can be: "The Thecus N3200 3-Bay SOHO network storage system is much more than a typical network attached storage device, and is something like a Swiss Army knife of networking and storage functionality. In addition to making sure your important data is well looked after on three hard drives configured in your choice of RAID arrays, it makes sharing it locally and globally rather easy. On top of that, it will manage other items worth sharing, such as a printer, webcam, and your iTunes licensed media."
The N3200 can even save you money in the long run: "The Thecus N3200 not only provides three disks worth of storage, but is also able to function as a print server, iTunes server, and webcam server. What might have required a dedicated PC can now be handled by a small box that should use much less electricity…The minimal power consumption is just another positive to add to the device's growing list."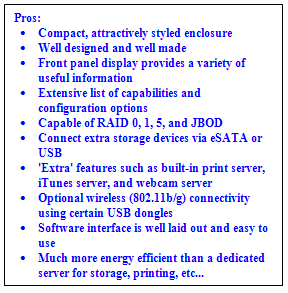 The N3200 is an example of superior design: "The construction of the N3200 is top notch, and while it is the type of device you could hide away only to be "seen" online, the small footprint and attractive styling may make you want to give it a prominent location. It looks cool, keeps your drives cool, and operates in near silence so it won't distract you unless you wind up paying too much attention to the interesting data scrolling across the front panel LCD."
The conclusion? "Given the small footprint, high quality construction, flexible configuration options, and extensive set of features, the Thecus N3200 3-Bay SOHO network storage system earns the Bigbruin.com "Great Idea" and "Highly Recommended" awards."
For the full review, check out: http://www.bigbruin.com/2008/thecusn3200_1
For more information on the N3200, check out: http://www.thecus.com/products_over.php?cid=12&pid=48
---
About Thecus

Thecus® Technology Corp. specializes in IP Storage Server solutions, including Network Attached Storage (NAS) and Wireless Media Bank products. The company was established in 2003 with the mission to make technology as transparent and easy-to-use as possible, and to make products that are not only the best on the market, but are accessible to experts and novices alike. With a best-in-class R&D team highly experienced in storage hardware and software and with a keen customer focus, Thecus® stays close to the market to develop high-quality products to fulfill the storage needs of today's world.
For sales inquiries, please contact us via email:
sales@thecus.com
For marketing inquiries, please contact us via email:
marketing@thecus.com