For sales inquiries,
please contact us at:


sales@thecus.com
For marketing inquiries, please contact us at:


marketing@thecus.com
2008-09-24
"A fine example of what a home NAS device should and can be"
09/24/2008 – RAID 5 is one of the flagship features of the N3200 NAS from Thecus. Offering both speed and security, the N3200 finally brings RAID 5 home. Recently, US website Bjorn3D took the N3200 for a spin, and found that it is an "excellent solution for the home user", giving it a score of 8.5 out of 10 and their coveted Seal of Approval!
With the N3200, flexibility is a tremendous asset: "So, is it RAID 0 or RAID 5 that gives you the best performance? On straight performance, it's raid 0. But if it's redundancy that you require, then RAID 5 is the way to go. Either way, the Thecus N3200 has you covered. And if it's ultra-redundancy that you crave, the Thecus N3200 can also be setup with two hard drives to use RAID 1 (mirrored array) with a third tucked away as a spare and the ability to automatically rebuild the previous RAID set if one of the disks gets degraded "
This paragraph sums it all up nicely: "The Thecus N3200 is a fine example of what a home networked area storage device should and can be. With features galore, it packs quite a punch. While many users may not need or use all of the features that that this unit has, it's nice to know that they're there should the need arise. And the N3200 can support just about any need that the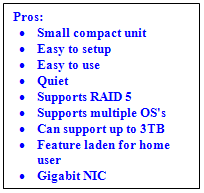 home user (or even small business user) might have. RAID 5 data redundancy will be highly prized by many a user who may want to protect their most precious assets - their digital content, be it their family photos, their music or movies, or anything else that they cherish or deem saveworthy. The Thecus N3200 is up to the task."
The bottom line? "The Thecus N3200 is an excellent solution for the home user that wants or needs a network attached storage solution for file sharing and the security of data redundancy. It's ease of use and solid performance earn it the Bjorn3D.com Seal of Approval and a score of 8.5 out of 10 (Very Good)."
For the full review, check out:
http://www.bjorn3d.com/read.php?cID=1326&pageID=5232
For more information on the N3200, check out:
http://www.thecus.com/products_over.php?cid=12&pid=48
---
About Thecus

Thecus® Technology Corp. specializes in IP Storage Server solutions, including Network Attached Storage (NAS) and Wireless Media Bank products. The company was established in 2003 with the mission to make technology as transparent and easy-to-use as possible, and to make products that are not only the best on the market, but are accessible to experts and novices alike. With a best-in-class R&D team highly experienced in storage hardware and software and with a keen customer focus, Thecus® stays close to the market to develop high-quality products to fulfill the storage needs of today's world.
For sales inquiries, please contact us via email:
sales@thecus.com
For marketing inquiries, please contact us via email:
marketing@thecus.com