For sales inquiries,
please contact us at:


sales@thecus.com
For marketing inquiries, please contact us at:


marketing@thecus.com
2008-09-10
"The Thecus N3200 is the perfect solution for your storage needs"

09/10/2008 – A home NAS should offer enough flexibility to handle a multitude of applications, while powerful and secure enough to effectively share and secure data. With the introduction of the Thecus N3200, users are finding out how a home NAS should be made. US website Hi-Tech Reviews recently tested the N3200, and at the end of the day, awarded it with their Editor's Choice Award, calling it a "perfect solution for your storage needs"!
A short introduction kicks off the review: "After removing the extra foam packing material I was then able to see the N3200 carton and read was printed on the sides of it. The front of the carton shows the N3200 NAS device and print in seven languages are the words "Multi-lingual storage server". On the side panel you a list of the features you will find on the N3200, such as home NAS with RAIDS protection, home application oriented features, unlimited expandability, stylish design, easy disk management, LCD display and wireless ready. "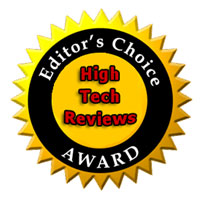 Being a Thecus product, the N3200 exhibited strong performance: "Currently we are using the Thecus N3200 primarily as a file server and a backup system, the device has been configured using three 750GB hard drives which have 32MB of cache each. The larger size caches contribute to data transfer rates far superior to any other NAS we have used in the past."
The verdict? "If you are in the market for a high quality network attached storage device you should make this unit one of the first device you look at and then use it as a standard to compare other you look to. By doing this you will find out that the Thecus N3200 is the perfect solution for your storage needs."
For the full review, check out:
http://www.hi-techreviews.com/reviews/current-reviews/thecus-n3200-nas-device-review.html
For more information on the N3200, check out: http://www.thecus.com/products_over.php?cid=12&pid=48
---
About Thecus

Thecus® Technology Corp. specializes in IP Storage Server solutions, including Network Attached Storage (NAS) and Wireless Media Bank products. The company was established in 2003 with the mission to make technology as transparent and easy-to-use as possible, and to make products that are not only the best on the market, but are accessible to experts and novices alike. With a best-in-class R&D team highly experienced in storage hardware and software and with a keen customer focus, Thecus® stays close to the market to develop high-quality products to fulfill the storage needs of today's world.
For sales inquiries, please contact us via email:
sales@thecus.com
For marketing inquiries, please contact us via email:
marketing@thecus.com