For sales inquiries,
please contact us at:


sales@thecus.com
For marketing inquiries, please contact us at:


marketing@thecus.com
2008-09-05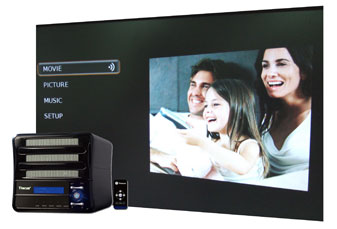 2008/09/05 - Home entertainment buffs are going to be thrilled to meet the latest gadget from Thecus innovation, the M3800. Dedicated to bring the most convenient home storage products to consumers, Thecus has integrated digital storage technology with multimedia playback solution and delivered the sensation to the market.
The M3800 is the complete package of digital storage and playback solution. Equipped with three 3.5" SATA bays, the M3800 brings the security of RAID 5 home and comes with all the standard Thecus NAS features such as download manager, iTunes server, web camera function, photo web server, etc. The most fascinating design concept is centered on the home theater. Featuring HDMI, component, and AV out, the M3800 can play digital content directly through your existing home theater system. The M3800 supports multiple file formats, and even supports 1080P for playback on today's high-definition displays. What's more, with the included remote control, users can enjoy movies, music, photos and more from the comfort of your living room couch. The whole family can view their favorite blockbuster hits and listen to their favorite tunes without the hassle of having to locate files saved in different locations or multiple machines throughout the house.
Thecus has raised the bar high again with storage solution. The M3800 offers a compelling solution for households to easily store and share their digital media throughout the home network. It is the currently the only 3-bay NAS device with home theater video and audio sharing functionality. Fasten your seat belt and prepare yourself for the unique integration of NAS and multimedia player.
For more information on the M3800 Stream Box, check out:
http://www.thecus.com/products_over.php?cid=23&pid=55
---
About Thecus

Thecus® Technology Corp. specializes in IP Storage Server solutions, including Network Attached Storage (NAS) and Wireless Media Bank products. The company was established in 2003 with the mission to make technology as transparent and easy-to-use as possible, and to make products that are not only the best on the market, but are accessible to experts and novices alike. With a best-in-class R&D team highly experienced in storage hardware and software and with a keen customer focus, Thecus® stays close to the market to develop high-quality products to fulfill the storage needs of today's world.
For sales inquiries, please contact us via email:
sales@thecus.com
For marketing inquiries, please contact us via email:
marketing@thecus.com