For sales inquiries,
please contact us at:


sales@thecus.com
For marketing inquiries, please contact us at:


marketing@thecus.com
2008-08-28
Digital storage leader displays the very latest in NAS storage

08/28/2008 – Located at the RAI Exhibition and Conference Centre in Amsterdam, the IBC Exhibition showcases all the latest technology and foremost business ideas in broadcasting and media. This year, at IBC2008 (September 12~16), Thecus Technology and CTT will be at the exhibition to display the latest Thecus products, including the ground-breaking M3800 Home NAS.
The IBC Exhibition is internationally renowned for being run by the industry for the industry and offers unparalleled expertise and opportunities in the fields of content creation, management and delivery. Each year, IBC provides visitors with vast opportunities, including access to over 1,300 leading manufacturers and specialist suppliers, technical conferences focusing on the hottest topics, and the latest products and services relating to the industry of content creation. At IBC2008, showgoers will be able to see Thecus' M3800 in action at the CTT booth.
The Thecus M3800 is a 3-bay NAS device with home theater video and audio sharing functionality. The M3800 supports RAID 5 for excellent data security, and adds wireless capability to allow all users throughout the house to enjoy stored media anytime they please. In addition, the M3800 supports USB webcams, making it easy for users to keep tabs on what's happening in their homes for added peace of mind. The M3800 features AMD technology and delivers a complete media and storage solution perfect for the home.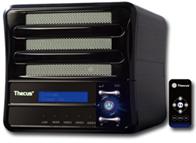 For more information on IBC 2008, go to:
For more information on CTT, go to:
For more information on the M3800, check out:
http://www.thecus.com/products_over.php?cid=23&pid=55
---
About Thecus
Thecus® Technology Corp. specializes in IP Storage Server solutions, including Network Attached Storage (NAS) and Wireless Media Bank products. The company was established in 2003 with the mission to make technology as transparent and easy-to-use as possible, and to make products that are not only the best on the market, but are accessible to experts and novices alike. With a best-in-class R&D team highly experienced in storage hardware and software and with a keen customer focus, Thecus® stays close to the market to develop high-quality products to fulfill the storage needs of today's world.
For sales inquiries, please contact us via email: sales@thecus.com
For marketing inquiries, please contact us via email: marketing@thecus.com