For sales inquiries,
please contact us at:


sales@thecus.com
For marketing inquiries, please contact us at:


marketing@thecus.com
2008-08-26
2008/08/26 -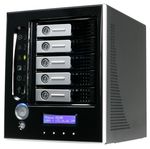 As the technology leader in storage solution, Thecus Technology Corp. is determined to service consumers with innovation and visionary storage products and solutions. Since the launch of world first 5 bay NAS, Thecus N5200 series has quickly gained raved reviews around the world. Thecus N5200 series has been extremely well-received by users and IT media worldwide. It is regard as the best of its category. According to Google Trend, an advanced feature from Google to explore visitors on specific websites or items on Internet, Thecus N5200 series is one of the most requested and visited 5-bay NAS products on Internet. The number of audiences for N5200 series is way ahead of the other manufactures.
Huge storage capacity under high level of data protection, numerous functions, outstanding performance, and low power consumption are the reasons why it is such frequently requested from Internet:
Capacity meets security: supported at least 5TB of storage, N5200 series delivers RAID 5, 6, and 10 for extra data protection mechanism.

Handful of functions: plethora of great features such as surveillance server, web server and more brings high-tech convenience to home and office. The Pro model even delivers dynamic storage volume management like multiple RAID, iSCSI, and stackable function.

File transfer speed: equipped with powerful processor and sufficient memory, N5200 series' performance is tested and reviewed to be top of the chart by numbers of authoritative IT media, such as Smallnetbuilder.com.

Low electricity bill: N5200 series requires limited power (less than 40W) to execute tasks, suitable for long period of operation.
The N5200 series is recognized as one of the unmatched digital storage solution for offices and homes to store valuable data. N5200PRO has overcome the challenge to provide highly stable and secure file storage and sharing environment with leading-edge performance and handy functions for IT operators and SOHO users. There has been packed with praises (52) and awards (20) from authoritative IT media on Internet and still rapidly increasing. Do not hesitate. Check out Thecus N5200 series online and find out more about what it has to offer. You are guaranteed to crazily fall in love with it.
For more information on the N5200, check out:
http://www.thecus.com/products_over.php?cid=10&pid=8
For more information on the N5200PRO, check out:
http://www.thecus.com/products_over.php?cid=11&pid=32

---
About Thecus
Thecus® Technology Corp. specializes in IP Storage Server solutions, including Network Attached Storage (NAS) and Wireless Media Bank products. The company was established in 2003 with the mission to make technology as transparent and easy-to-use as possible, and to make products that are not only the best on the market, but are accessible to experts and novices alike. With a best-in-class R&D team highly experienced in storage hardware and software and with a keen customer focus, Thecus® stays close to the market to develop high-quality products to fulfill the storage needs of today's world.
For sales inquiries, please contact us via email: sales@thecus.com
For marketing inquiries, please contact us via email: marketing@thecus.com