For sales inquiries,
please contact us at:


sales@thecus.com
For marketing inquiries, please contact us at:


marketing@thecus.com
2008-08-25
Stunning performance and robust features win over editors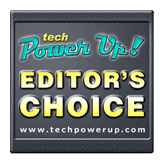 08/25/2008 – For years, Thecus products have been the performance leaders in the world of NAS. The N5200PRO, one of Thecus' flagships, delivers stunning performance with its beefy CPU and superior design. The editors of Tech Powerup took a close look at the five-bay unit, and discovered that it was a top performer, even when stressed. In fact, they liked it so much that they decided to give it a near-perfect score of 9.6 out of 10 and their Editor's Choice Award!
The N5200PRO is always a strong performer, even under load: "Even though a failing array can be rebuilt, you still want to access your data during the rebuilding process. Accessing the data usually isn't much of an issue, performance may suffer though. Since rebuilding an array causes quite a lot of load on the system I used this moment to see how much of a performance hit there is...To my surprise performance is still great, in fact I've seen lower speeds while the device is idle."
The Tech Powerup verdict: "NAS devices seem one of today's must-haves. Every storage company sells them and some are even specialized in this area. Thecus is one of these companies who specializes in NAS devices, hence their products are solid and future proof. The N5200Pro is one of the high end models, hence it doesn't come cheap. In return you get a product that will last for years. It can hold up to five high capacity SATA drives internally and allows expansion via eSATA and USB. Due to RAID the massive amount of data is relatively safe as well. Which is important since it's not easy to backup several terabytes. When in need of a large amount of external storage the Thecus N5200Pro is something to seriously consider."

For the full review, check out: http://www.techpowerup.com/reviews/Thecus/N5200_Pro/

For more information on the N5200PRO, check out:
http://www.thecus.com/products_over.php?cid=11&pid=32
---
About Thecus
Thecus® Technology Corp. specializes in IP Storage Server solutions, including Network Attached Storage (NAS) and Wireless Media Bank products. The company was established in 2003 with the mission to make technology as transparent and easy-to-use as possible, and to make products that are not only the best on the market, but are accessible to experts and novices alike. With a best-in-class R&D team highly experienced in storage hardware and software and with a keen customer focus, Thecus® stays close to the market to develop high-quality products to fulfill the storage needs of today's world.
For sales inquiries, please contact us via email: sales@thecus.com
For marketing inquiries, please contact us via email: marketing@thecus.com