For sales inquiries,
please contact us at:


sales@thecus.com
For marketing inquiries, please contact us at:


marketing@thecus.com
2008-08-22
Thecus' three-bay wonder scores 5 out of 5, Best Buy Award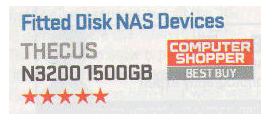 08/22/2008 – Finding the right mix of performance and features can sometimes be hard, but the N3200 from Thecus is a very safe bet. In their September 2008 issue, Computer Shopper Magazine pitted the N3200 against 10 other NAS units, and in the end, awarded the N3200 a perfect 5 out of 5 score and their coveted Best Buy Award!
Computer Shopper introduces some of the features of the N3200: "Thecus' N3200 has some odd features for a NAS, including a PCI slot and support for USB wireless adaptors, but it has lots of practical ones. The three SATA bays are hidden behind a removable front panel and disks can be removed by simply undoing the thumbscrews. This model came fitted with three 500GB disks that can be configured as either RAID 0 or RAID 5."
The N3200 comes with more than a few tricks up its sleeve: "A handy front-mounted display shows information such as the current IP address and RAID level. We had no problems using the N3200 as an iTunes, UPnP media or printer server. Usefully, it can save energy by powering itself down at different times each day. It's the only NAS here capable of sharing the contents of eSATA and USB disks across a network. Unlike the DS508, it doesn't have a separate program for managing BitTorrent downloads."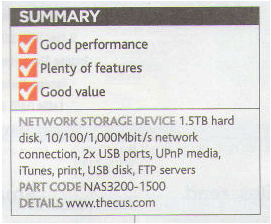 At the end of the roundup, the N3200 prevails: "The N3200 was one of the fastest NAS devices here when transferring small files. It was also one of the quickest at copying large files...Thecus' N3200 is an impressive NAS. Although it isn't cheap, it has a reasonable cost per gigabyte of 33p and strikes a good balance between performance and features."
For the full review, check out the September 2008 issue of Computer Shopper Magazine.

For more information on the N3200, check out:
http://www.thecus.com/products_over.php?cid=12&pid=48
---
About Thecus
Thecus® Technology Corp. specializes in IP Storage Server solutions, including Network Attached Storage (NAS) and Wireless Media Bank products. The company was established in 2003 with the mission to make technology as transparent and easy-to-use as possible, and to make products that are not only the best on the market, but are accessible to experts and novices alike. With a best-in-class R&D team highly experienced in storage hardware and software and with a keen customer focus, Thecus® stays close to the market to develop high-quality products to fulfill the storage needs of today's world.
For sales inquiries, please contact us via email: sales@thecus.com
For marketing inquiries, please contact us via email: marketing@thecus.com