For sales inquiries,
please contact us at:


sales@thecus.com
For marketing inquiries, please contact us at:


marketing@thecus.com
2013-08-29
Daisy Chains: Greater storage volume, less storage cost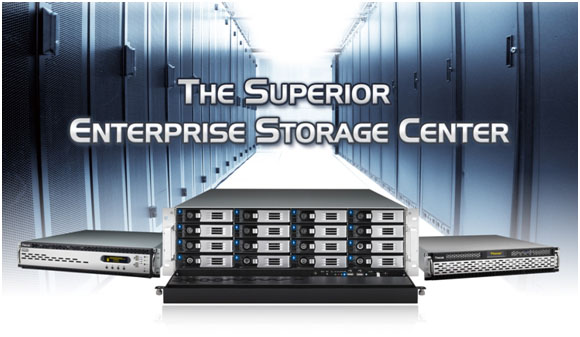 08/29/2013- As an enterprise-class NAS, units require specific features such as being online and accessible at all times, high data transfer speeds, virtual platform availability, total backup solutions, and storage volume scalability. For storage volume expansion, Thecus® offers several solutions, with Daisy-Chaining being an example of one very well suited to enterprise-size organizations.
Daisy-chaining basics
The announcement in 2012 of the implementation of daisy-chaining technology in the Thecus® line of products was a great milestone for the company and NAS industry as a whole. So let's start with a little background. In electrical and electronic engineering, a daisy chain is a wiring scheme in which multiple devices are wired together in sequence or in a ring. In computing, a daisy chain is a type of network topology where network administrators link two or more devices together consecutively in order to transfer data. Daisy chain layouts are beneficial for users who often need to add more nodes to a network because of the ease with which this can be done (for instance it requires very little cable).
Daisy-chaining in action
To expand volume with daisy chains, we can use, for example, the Thecus® N16000PRO and the D16000 DAS. A master N16000PRO unit is required to guide the daisy-chaining, and users can then link up to four D16000 as target units. To connect the units, high-speed SAS cables are used.
Thecus® has made sure that connecting the N16000PRO and D16000 is a breeze – After adding a dual-port SAS card to your master NAS you simply need a SAS cable to connect the additional DAS units. To further expand your storage, simply link up to two D16000s to each port of the master NAS to achieve a total of four D16000s.

With daisy-chaining, users are able to obtain a massive amount of volume - up to 320TB of storage! The ability to reach these capacities at such a low cost is undoubtedly an industry first.
Cost saving with Daisy Chains
Its cost per unit storage is what makes the D16000 the cream of the network storage crop. The reason for this cost-saving is that the D16000 DAS focuses solely on storage and leaves the computing to the master units. This is the boon that Thecus® technology can offer through daisy-chaining.
Another advanced solution by Thecus®
The concept of NAS daisy-chaining is mostly geared towards enterprise level users. Large enterprises that require numerous rackmounts can thus take advantage of daisy chains and connect D16000 units together for massive volume expansion at a fraction of the regular cost. Another perk of daisy-chaining is that transfer speeds are especially fast thanks to the SAS cables! Because at Thecus®, we're committed to creating not only NAS products, but storage solutions that give you the most out of your hardware.
For more information about the Thecus® N16000PRO, go to:
http://www.thecus.com/product.php?PROD_ID=85
For more information about the Thecus® D16000, go to:
http://www.thecus.com/product.php?PROD_ID=82
---
About Thecus®
Established in 2004, Thecus Technology Corp provides market leading network attached storage and network video recorder solutions, committed to revolutionize how everyone from home user to enterprise level business centrally stores, manages and accesses their digital data both onsite and cloud-based. Thecus strives to deliver continuous innovation through cutting edge technology and design to provide data storage with the most customer-friendly platform, rapid performance and robust security. In May 2016, Thecus was formally acquired by Ennoconn Corporation and thus became part of the Foxconn IPC Technology group. Partnered together this diverse group of companies work in tandem to provide a total IoT (Internet of Things) solution. Now with an unparalleled portfolio to work with, Thecus is collaborating to bring unprecedented change to the network storage industry.