For sales inquiries,
please contact us at:


sales@thecus.com
For marketing inquiries, please contact us at:


marketing@thecus.com
2013-08-22
From digital to physical!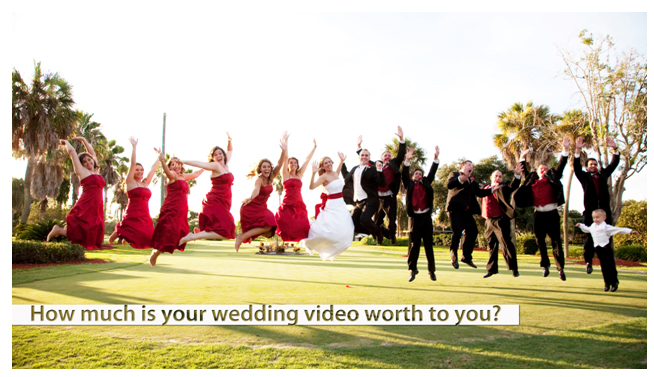 08/22/2013- While Thecus® has redefined NAS systems with their incorporation of various additional functionalities, the basic feature of a NAS remains data storage. With the widespread onset of the digitalization of media, data storage has grown to include not only text files, but also images, audio, and video. Faced with a lifetime of media, you need a Thecus® NAS to help you store and protect your most valuable memories: a film of your child's birth, songs you sang with schoolmates when graduated, and, of course, your unforgettable wedding video. If these precious memories were to be lost, it would be a sad day indeed. Fortunately, with Thecus®, your data has never been safer.
Data Backup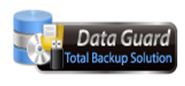 Thecus® Data Guard offers a wide range of backup solutions and supports three main backup options: Local Backup, Remote Backup, and Cloud Backup. Local Backup provides users with a multitude of easy-to-use and flexible features: Import, Copy, Real-Time Backup, Scheduled Backup, iSCSI Backup, and iSCSI Import. No matter the kind of backup you need, you'll find the option in Data Guard.
When it comes to remote backup, we've also got you covered. Your Thecus® NAS can easily backup your data to any other NAS (even if it's at a remote site), and includes backup options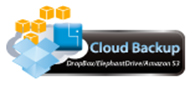 such as Full, Custom, and iSCSI.
Cloud Backup is considered by many to be the best way to keep your critical data safe. Not only is your data kept encrypted at remote locations, but it is also taken care of by professional teams so that it is always available - whenever and wherever you need it.

Data Encryption
The Thecus® AES 256-bit RAID Volume Encryption feature allows users to encrypt storage volumes on their Thecus® NAS and write the key to any USB disk. Once a RAID volume has been encrypted, no one will be able to access your NAS to retrieve data or modify settings without the USB disk and its encryption key. In this way, Thecus® insures that users' data will be 100% secure, even if drives (or even the entire NAS) is stolen.
Antivirus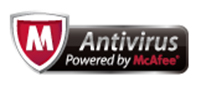 McAfee AntiVirus protects Thecus® NAS, giving users a sense of security and confidence while managing their sensitive data. With McAfee, an astonishing 99% of all viruses are recognized before they can go anywhere near your vital data. Furthermore, you will be able to scan files up to 8GB in size, while only requiring twenty seconds for every 1GB scanned.
Kensington Lock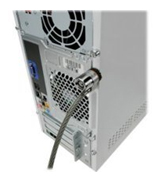 Kensington Locks are anti-theft systems that consists of small, metal-reinforced holes. These are generally secured in place with a key or combination lock attached to a rubberized metal cable that itself is connected to larger, secure objects, such as heavy tables.
Given the space-saving size of some of our NAS devices, we wanted to ensure that users' data would always be exactly where they left it. Consequently, Thecus® has incorporated Kensington Locks into our more compact devices to ensure the safety of your machine and data.
Total Protection
Thecus® is known for adding to the utility of its NAS servers by constantly enhancing their features. With data backup, data encryption, McAfee AntiVirus, and Kensington Locks, our suite of data solutions can guard your information both digitally and physically. Thecus® is proud to present a complete data safeguard solution.
For more information about Data Backup, go to:
http://www.thecus.com/media_news_page.php?NEWS_ID=5291
For more information about Remote Backup, go to:
http://www.thecus.com/media_news_page.php?NEWS_ID=5271
For more information about Cloud Backup, go to:
http://www.thecus.com/media_news_page.php?NEWS_ID=5308
For more information about Data Encryption, go to:
http://www.thecus.com/media_news_page.php?NEWS_ID=2060
For more information about the embedded antivirus system, go to:
http://www.thecus.com/media_news_page.php?NEWS_ID=5531
---
About Thecus®
Established in 2004, Thecus Technology Corp provides market leading network attached storage and network video recorder solutions, committed to revolutionize how everyone from home user to enterprise level business centrally stores, manages and accesses their digital data both onsite and cloud-based. Thecus strives to deliver continuous innovation through cutting edge technology and design to provide data storage with the most customer-friendly platform, rapid performance and robust security. In May 2016, Thecus was formally acquired by Ennoconn Corporation and thus became part of the Foxconn IPC Technology group. Partnered together this diverse group of companies work in tandem to provide a total IoT (Internet of Things) solution. Now with an unparalleled portfolio to work with, Thecus is collaborating to bring unprecedented change to the network storage industry.