For sales inquiries,
please contact us at:


sales@thecus.com
For marketing inquiries, please contact us at:


marketing@thecus.com
2013-08-08
How to use Thecus® NAS as a home media center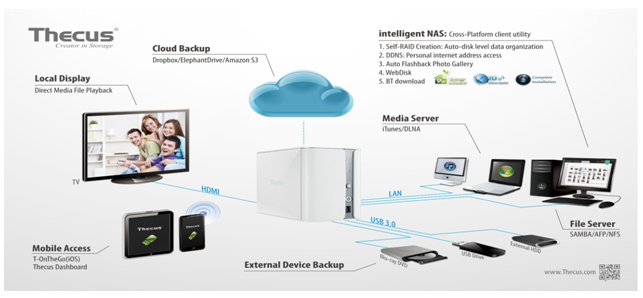 08/08/2013- Home Entertainment used to be pretty simple - turn on the TV, adjust the "rabbit ears", and sit down for an evening of laughter and drama. Today, it is not so easy- we have HDTVs, Cable, Blue-ray Discs, and DVDs, and now the internet and home networks have changed the way we access movies, music, and other entertainment. As a result, Media Servers are now something that consumers need to not only know about but also know how to use.
If your home network lacks a Thecus® NAS box, you're missing out on two counts:
First, a Thecus® NAS is the easiest way to back up and integrate data from connected PCs and other smart devices. On average, each member of a family has at least one PC or laptop, one mobile device, and one USB drive or external HDD. This means there may be more than ten devices containing various media or other files. It is inconvenient to transfer data between devices with different specifications, let alone find one target file hiding in one of them. Thecus® NAS are thus able to provide a solution as data centres for families to share movies, music, photos, and other files.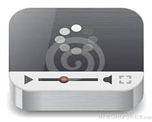 Second, a NAS can help you build your media library and stream files to any PC, smart TV, mobile device, or networked audio device in your household. Thecus® NAS servers make remote access possible, so you can access your data from, and stream your media to, any device connected to the internet.
Local Display
Most of the Thecus® NAS are equipped with an HDMI output which can be used to connect your NAS to a TV screen, a monitor, or a projector. Anyone would agree that these are better options than watching your media files on a tiny screen.
This is made possible through the use of the Local Display module. This module will not only enable you to manage your NAS without the need of a computer, but will also let you play your videos, music, and photos through a third party multimedia player such as XBMC. Furthermore, don't forget that you can make XBMC a unique personal multimedia player, customized to your needs. For example, by adding the right plug-ins and using a DTV USB dongle, you can gain access to your local digital TV broadcast. And with XBMC Remote, you can sit on the sofa and enjoy modern home entertainment at your convenience.

Remote Access
While someone is using the function above and enjoying media in the living room, Thecus® NAS enables you to access and open files from other devices at the same time. We provide Intelligent NAS to operate servers on both desktop and laptop computers. Intelligent NAS is software designed by Thecus® to offer novice users an all-in-one application to manage and access everything that comes with their NAS.
No matter whether you're in at home or not, your mobile devices are always in control of your NAS server with our advanced applications and third-party apps, such as T-OnTheGoTM, Thecus DashboardTM, FTPManager (for iOS systems), ES File Explorer (for Android systems), and Twonky Beam. These applications help expand the usage of your mobile devices by providing you with your very own cloud server.

As networking storage technology continues to evolve quickly, our new Thecus® NAS products provide the ultimate home and SMB NAS for all users who manage daily data backups, personal cloud storage, and multimedia network playback. With the array of features listed above, we are sure Thecus® NAS servers will be an important pillar in the intelligent home multimedia systemsofthe future.
For more information about the Local Display module, go to:
http://www.thecus.com/media_news_page.php?NEWS_ID=4937
For more information about XBMC and XBMC Remote, go to: http://xbmc.org/
For more information about remote application, go to: http://www.thecus.com/sp_dashboard.php
---
About Thecus®
Established in 2004, Thecus Technology Corp provides market leading network attached storage and network video recorder solutions, committed to revolutionize how everyone from home user to enterprise level business centrally stores, manages and accesses their digital data both onsite and cloud-based. Thecus strives to deliver continuous innovation through cutting edge technology and design to provide data storage with the most customer-friendly platform, rapid performance and robust security. In May 2016, Thecus was formally acquired by Ennoconn Corporation and thus became part of the Foxconn IPC Technology group. Partnered together this diverse group of companies work in tandem to provide a total IoT (Internet of Things) solution. Now with an unparalleled portfolio to work with, Thecus is collaborating to bring unprecedented change to the network storage industry.