For sales inquiries,
please contact us at:


sales@thecus.com
For marketing inquiries, please contact us at:


marketing@thecus.com
2013-08-06
Make your NAS more than just a storage box

08/06/2013- Over the past few years, NAS servers have moved from being solely used in large business and enterprise, and have instead begun to appear in the households around the world. This has been despite the complicated and tortuous setup process often facing novice users. Thecus® is therefore proud to introduce Intelligent NAS, a software application that helps even the least experienced computer user easily manage their Thecus® NAS server. In contrast to the Thecus® OS, this application can be directly installed on your computer and is compatible with both Windows and Mac systems.
Easy setup with Intelligent NAS
With a brand new NAS server, simply plug in the power supply, insert the Ethernet cable, boot up the NAS server, and Intelligent NAS will lead the setup to be completed within 5 minutes. When installing network storage, it is often important to select what kind of RAID arrangement is appropriate for individual needs. Luckily, Intelligent NAS can provide users with the best suited RAID array automatically with only a few mouse clicks and save you from getting bogged down in these annoying settings. This breakthrough feature truly makes Thecus® NAS plug-and-play.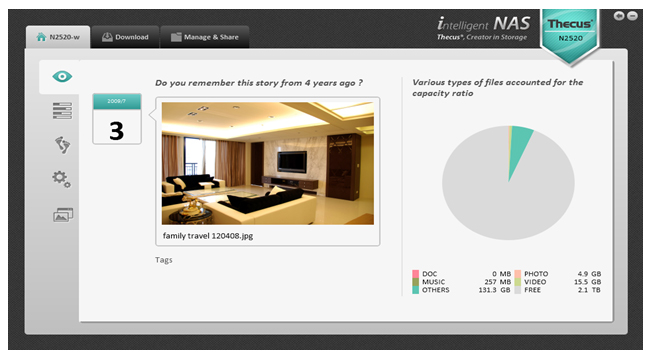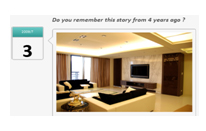 Forget me not
Intelligent NAS also presents a nifty little feature on the start page called Auto Flashback Photo Gallery. This function brings back your memories by showing photos taken on the same day from previous years. From now on, you will never forget an anniversary.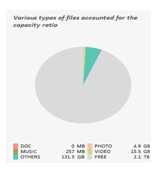 Keep an eye on your data
There is also a capacity ratio chart displayed with the Auto Flashback Photo Gallery. Here you can monitor how much space is already in use with a simple glance. Sometimes a HDD is full but we are unable to decide what kind of files should be removed or backed up. This capacity ratio chart classifies your NAS files into several sections to help users to quickly determine their storage situation and easily visualize their data. With this useful function, you will never be tormented by a full drive again.
Monitor activities on your NAS
Thecus® NAS is designed as a personal cloud solution and is available for multiple users. Under your supervision, the records of other users' logins and logouts as well as all of the copy tasks (even those still ongoing), are shown on our clear yet stylish interface. You will never lose track of what has happened on your device with Intelligent NAS.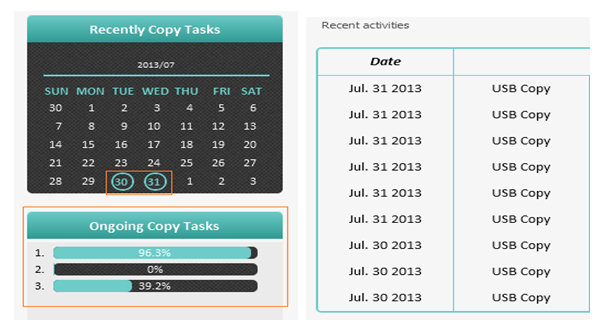 Manage your NAS files
Intuitive operation is a core concept of Intelligent NAS. With simple dragging and dropping, your files will be stored immediately. With a few clicks of your mouse, you can watch movies, listen to music, or share your photos on social media websites through our advanced interface.
Tagging
With the huge storage capacity of NAS, it is possible that you may lose track of some of your files. To solve this problem, included in Intelligent NAS is the "Tag Files" function where you can add one or multiple tag names to every file in your Thecus® NAS. This feature can help users easily find specific or related files simply by typing tag names into the file browser.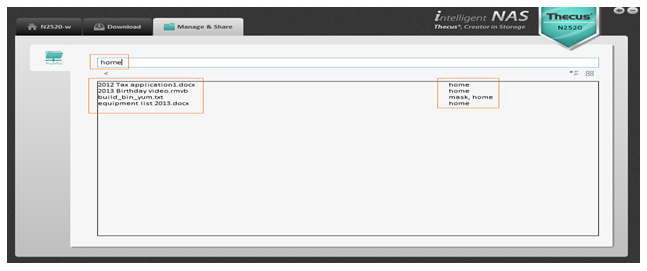 Downloading with your NAS
BitTorrent downloading is now available on Intelligent NAS as well. After starting a download task on Intelligent NAS, users can shut down their PCs without interrupting the download, which will instead continue through the NAS server.
Create your own DDNS
When first initiating a NAS server, Intelligent NAS will allow users to create their very own DDNS (Dynamic Domain Name System). Since IP digits are often difficult to remember, domain names are utilized to make NAS management even more convenient. If the IP address is changed, the DDNS server will automatically update itself to make sure that remote access is always available.

FTP Manager and ES3 Manager enable your iOS and Android devices to communicate with your NAS server through FTP (File Transfer Protocol). By using your DDNS, you can access and manage your NAS files via remotely. In the future, we foresee an even greater number of applications being released by third party developers, who, along with the Thecus® team, will help continue to make NAS servers so much more than just storage devices.
With Intelligent NAS, you get an easy 5 minutes 'plug and play' installation, an innovative photo gallery that brings back your favorite memories, as well as remote NAS access via DDNS through any existing internet connection. Our new client utility offers a simplified data management system while expanding the user's experience of their Thecus® NAS server.
To download the Intelligent NAS application, go to: http://install.thecus.com
---
About Thecus®
Established in 2004, Thecus Technology Corp provides market leading network attached storage and network video recorder solutions, committed to revolutionize how everyone from home user to enterprise level business centrally stores, manages and accesses their digital data both onsite and cloud-based. Thecus strives to deliver continuous innovation through cutting edge technology and design to provide data storage with the most customer-friendly platform, rapid performance and robust security. In May 2016, Thecus was formally acquired by Ennoconn Corporation and thus became part of the Foxconn IPC Technology group. Partnered together this diverse group of companies work in tandem to provide a total IoT (Internet of Things) solution. Now with an unparalleled portfolio to work with, Thecus is collaborating to bring unprecedented change to the network storage industry.