For sales inquiries,
please contact us at:


sales@thecus.com
For marketing inquiries, please contact us at:


marketing@thecus.com
2008-05-16
05/16/2008
- Users and IT media worldwide has reviewed Thecus N299 and regard it as "a friendly, unbelievably affordable home NAS device". Two 3.5" SATA hard disk bays enable up to 1TB of storage capacity.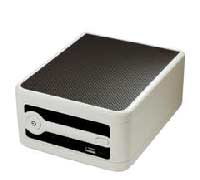 In addition, like other Thecus storage solutions, the N299 comes with many features and functionality. It is the most desirable data archive with features-packed system for home users.
- Seagate Barracuda ST3500320NS 500GB
- Seagate Barracuda ST3500320AS 500GB
- Seagate Barracuda ST3320613AS 320GB
- Hitachi HDP725050GLA360 500GB
- Hitachi HDT725032VLA360 320GB
- Western Digital WD5000AACS-00ZUB0 500GB
- Western Digital WD3201ABYS-01B9A0 320GB
- Maxtor STM3500320AS 500GB

For updated and complete hard drive compatibility list, please refer to link below:
http://www.thecus.com/download/other/N299_HDD_list_2008-05-14.pdf
Thecus technical team will update the hard drive compatibility lists and provide up-to-date storage solution information regularly on the Internet.
---
About Thecus

Thecus® Technology Corp. specializes in IP Storage Server solutions, including Network Attached Storage (NAS) and Wireless Media Bank products. The company was established in 2003 with the mission to make technology as transparent and easy-to-use as possible, and to make products that are not only the best on the market, but are accessible to experts and novices alike. With a best-in-class R&D team highly experienced in storage hardware and software and with a keen customer focus, Thecus® stays close to the market to develop high-quality products to fulfill the storage needs of today's world.
For sales inquiries, please contact us via email:
sales@thecus.com
For marketing inquiries, please contact us via email:
marketing@thecus.com