For sales inquiries,
please contact us at:


sales@thecus.com
For marketing inquiries, please contact us at:


marketing@thecus.com
2008-05-20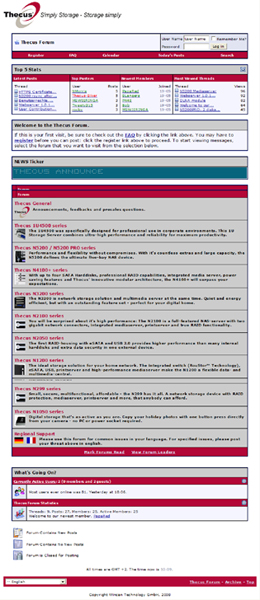 05/20/2008 - Wish to learn more about Thecus products through other users' experience? Look no more! Thecus is announcing it official online community forum at http://www.thecusforum.eu. Here at the forum, users are given a platform to exchange knowledge, experience, and discussion on Thecus products and technologies. Users are welcomed to answer each other's questions. To create posts here, registration is required. Registration is free and only takes a few seconds to complete. The forum will be monitored by Thecus technical team and comments or discussions will not be modified or removed unless the contents are considered offensive and inappropriate.

To encourage more user participation and involvement, Thecus will give out the following products to three forum members who provide most useful information during 2008:

- N5200B PRO
- N4100+
 - N2100

The winners will be announced in January 2009.
Please be reminded that Thecus technical support team is still standing by to provide prompt and accurate solutions for Thecus users. Users are still welcomed to submit tickets to the technical support when encounter problems.


Here it is again, Thecus Forum http://www.thecusforum.eu/ welcomes you
---
About Thecus

Thecus® Technology Corp. specializes in IP Storage Server solutions, including Network Attached Storage (NAS) and Wireless Media Bank products. The company was established in 2003 with the mission to make technology as transparent and easy-to-use as possible, and to make products that are not only the best on the market, but are accessible to experts and novices alike. With a best-in-class R&D team highly experienced in storage hardware and software and with a keen customer focus, Thecus® stays close to the market to develop high-quality products to fulfill the storage needs of today's world.
For sales inquiries, please contact us via email:
sales@thecus.com
For marketing inquiries, please contact us via email:
marketing@thecus.com