For sales inquiries,
please contact us at:


sales@thecus.com
For marketing inquiries, please contact us at:


marketing@thecus.com
2005-03-11
Thecus Introduces New IP Storage Products at CeBIT
Hannover, Germany, March 10, 2005 [Booth - Hall: 15 Stand: E37, (1)]
Thecus Technology Corporation, a leading maker of IP storage solutions, is introducing its latest products and displaying a full line of network attached storage (NAS) servers at CeBIT 2005. The new stand-alone and rack-mount NAS servers are fully featured, fast, affordable, and easy-to-use. Aimed at both expert and novice users, Thecus IP storage products are ideal for the network storage needs of small and medium enterprises, as well as for use in the digital home, education, government, healthcare, and professional services.

Digital files are finding their way into every aspect of our personal and business lives. The music, photos, video, and other entertainment we enjoy are now stored as files on our home computers. Data on the office network has proliferated to the point where files are difficult to keep track of, much less backed up and secure. A NAS server solves these problems through a dedicated approach to storing, managing, and distributing data.

"Storage has become the major issue in our digital lives," says Edwin Lin, CEO. "Today, the question everyone must answer is: 'How do I keep all of my data so that it is easy to reach, yet protected and secure?' Our line of NAS servers provides simple yet powerful solutions, whether it's for the home or for the enterprise."

The Thecus NAS servers on display at the CeBIT show include the N4500 rack-mount and N4100 standalone servers, and the N4000 4-bay and N2000 2-bay servers.

New Thecus products introduced at CeBIT are the N4500 rack-mount NAS server and the N4100 stand-alone NAS server. Thecus developed both the hardware and software for these servers based on the Intel IOP processor. The N4100 was showcased at this month's Intel Developer Forum (IDF) and was selected for display at the Intel Channel Conference for 50 U.S. states. The N4500 and N4100 both accommodate four SATA hard disks for over one terabyte of data capacity. The servers' durable hardware and advanced software deliver exceptional data reliability, mobility, rapid access, sharing and consolidation. The units are designed especially for multimedia and business critical content, and offer simple, yet cost-effective data management solutions.

The Thecus N4000 and the N2000 NAS servers are also on display at CeBIT. The N4000 is targeted to small and medium enterprises and provides four IDE drive bays for tera-scale storage capacity. The N2000 is ideal for home networks, offering two IDE drive bays for over 600GB of storage capacity. Both units use the Linux OS for stability, data security, and accessibility. The N4000 and N2000 NAS servers improve file management, increase application speed, and deliver faster data response for enhanced network efficiency.

Thecus NAS servers provide secure, high-speed transmission using the Gigabit Ethernet Interface. Cross platform file sharing enhances centralized data management and users of PC, Unix/Linux, and Macintosh platforms all have read and write access to the same files. These NAS servers offer high-performance storage solutions that are cost-effective.
(New IP Storage Products continued)

Thecus NAS servers enhance data security with RAID functions such as online disk hot swapping, hot spare, and auto-rebuild to ensure data integrity. Disk roaming lets users remove the RAID set to minimize downtime and data loss in the event of a system failure.

Plug and play installation and setup is quick and easy using web browser based administration and management. Thecus storage solutions are backed with a 2-year Warranty on parts and labor.

Thecus welcomes you to our booth at the CeBIT 2005 show, and we look forward to the opportunity to demonstrate the advantages and benefits of our complete line of IP Storage Products.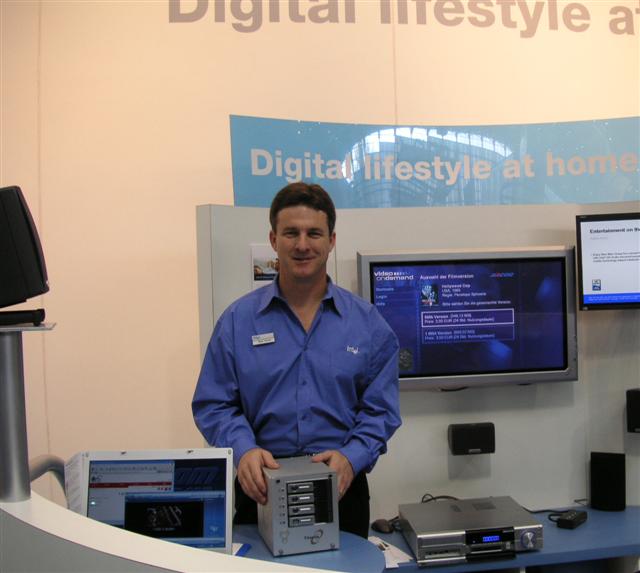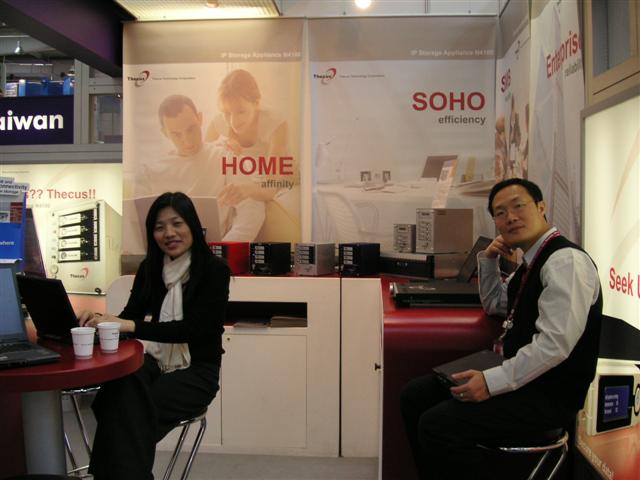 ---
About Thecus
Thecus® Technology Corp. specializes in IP Storage Server solutions. The company was established in 2004 with the mission to make technology as transparent and easy-to-use as possible, and to make products that are not only the best on the market, but are accessible to experts and novices alike. With a best-in-class R&D team highly experienced in storage hardware and software and with a keen customer focus, Thecus® stays close to the market to develop high-quality products to fulfill the storage needs of today's world.
For more information, please visit the Thecus® website at: http://www.thecus.com/