For sales inquiries,
please contact us at:


sales@thecus.com
For marketing inquiries, please contact us at:


marketing@thecus.com
2008-07-14
07/14/2008 - Thecus is known to transform sophisticated technology into easy-to-use utility for users. Delivering a plethora of advanced features to the table, Thecus NAS has always rocked the world of digital storage with innovation after innovation. There is no need to worry about lack of knowledgement of device operation. To ensure flawless operation, Thecus provides step-by-step tutorials on Case Studies section at Thecus officail website. These easy-to-follow instructions with screenshots will guide users through every step of way. They are designed to teach all Thecus users how to make the most use of their Thecus NAS. The content will be added periodically.

Thecus is thrived to bring "Non-stop Services" to worldwide users. Browsing through Thecus official website, the Case Studies section is the best online step-by-step manual archive and is extremely helpful to users to full utilize Thecus NAS on all applicable environment.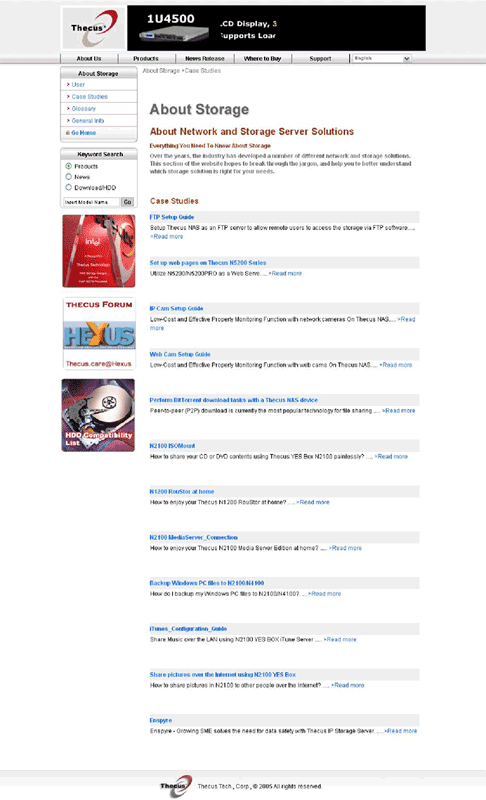 ---
About Thecus

Thecus® Technology Corp. specializes in IP Storage Server solutions, including Network Attached Storage (NAS) and Wireless Media Bank products. The company was established in 2003 with the mission to make technology as transparent and easy-to-use as possible, and to make products that are not only the best on the market, but are accessible to experts and novices alike. With a best-in-class R&D team highly experienced in storage hardware and software and with a keen customer focus, Thecus® stays close to the market to develop high-quality products to fulfill the storage needs of today's world.
For sales inquiries, please contact us via email:
sales@thecus.com
For marketing inquiries, please contact us via email:
marketing@thecus.com