For sales inquiries,
please contact us at:


sales@thecus.com
For marketing inquiries, please contact us at:


marketing@thecus.com
2008-07-22
07/22/2008 - The entire Thecus team takes pride in developing innovative storage solutions and deliver high-quality products that meet the storage needs of individual and enterprise to keep data safe and secure. Thecus manufactures powerful and easy-to-use products, making advanced storage products accessible to users of all skill levels. Transforming the most sophisticated technology into easy-to-use solutions to introduce comfortable network storage environment to people!&s everyday life is Thecus!& mission. On each and every Thecus storage product currently on the market, users are guaranteed to find trademark Thecus RAID®:
ultimate performance: equipped with powerful processors and sufficient memory, Thecus NAS delivers top of the chart speed for file transfer.
advance features: plethora of great features such as media server, download utility, surveillance server, web server and more brings convenience to home and office.
infinite expandability: the unique module support allows users to add new functions to Thecus NAS.
dependable security: the combination of RAID technology and powerful backup utility brings worry-free level of data security.
In 2nd half of 2008, Thecus has plans to launch series of world first NAS products, M3800, N4100PRO, N7700, and N8800. The Thecus RAID® says all what users can expect from these innovations. The torch of excellence is passed on to these successors to continue on the best Thecus brand name for digital storage solution.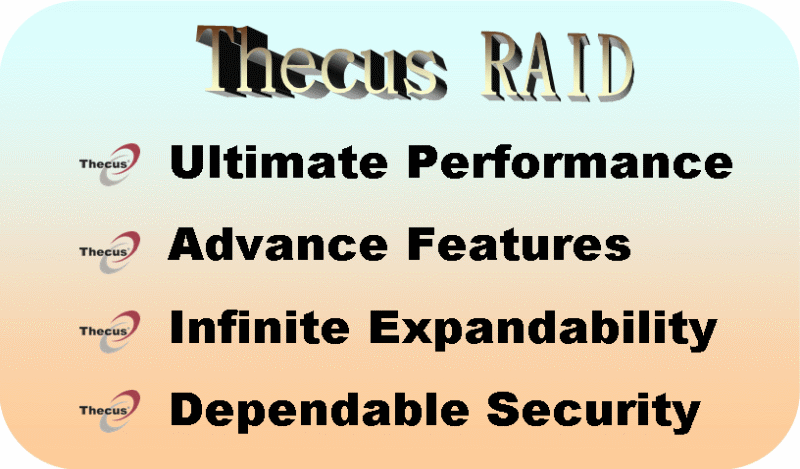 ---
About Thecus

Thecus® Technology Corp. specializes in IP Storage Server solutions, including Network Attached Storage (NAS) and Wireless Media Bank products. The company was established in 2003 with the mission to make technology as transparent and easy-to-use as possible, and to make products that are not only the best on the market, but are accessible to experts and novices alike. With a best-in-class R&D team highly experienced in storage hardware and software and with a keen customer focus, Thecus® stays close to the market to develop high-quality products to fulfill the storage needs of today's world.
For sales inquiries, please contact us via email:
sales@thecus.com
For marketing inquiries, please contact us via email:
marketing@thecus.com