For sales inquiries,
please contact us at:


sales@thecus.com
For marketing inquiries, please contact us at:


marketing@thecus.com
2013-06-27
Getting all you can out of your NAS
06/27/2013- Have you ever had problems managing all of your USB connections? Most recent computers don't have that many USB ports. Think about simple laptops, they often only have two USB connectors, but most of us have tons of USB peripherals that we often use such as: keyboards, mice, cellphones, game controllers, external hard drives, printers, scanners, drawing pads, etc. There is almost no end to it. Companies started to understand the problem of connecting peripherals so they often offer their own proprietary way to diminish various connection needs but they are usually limited to the newest product lines and require vendor lock-in.
But did you now that with your Thecus® NAS you also can reduce your needs of USB ports on your computer? You may already know that you can connect other external drives to it and share them over your local network. One thing you may not know is the possibility of sharing your printer over your local network too. Your NAS contains a printer server that is compatible with printers that support the IPP (Internet Printing Protocol), and almost all USB printers are compatible. It's a simple way to put aside a cumbersome device without having to go play under your desk every time a document needs to be printed.
Connecting a printer on your Thecus® NAS is a simple task. It will be automatically detected by the operating system and listed in the external device panel under the printer list item. Printer information can be accessed and the printer documents queue managed here.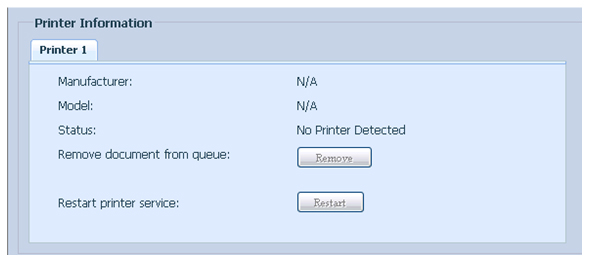 When you make sure that your printer is detected, you need to register it on your computer. For doing so, the process is also simple. From your Thecus® NAS instruction manual you can find the instructions for Windows under the printer section. For others operating systems, you can easily find tutorials about how to install a network printer. Steps are simple and straightforward. Also, don't forget to ask questions on the Thecus forum or use the technical support if you are having any difficulties during the process. Those simple steps will make your life easier if you are one of those numerous people that are constantly juggling with all those USB wires.
---
About Thecus®
Established in 2004, Thecus Technology Corp provides market leading network attached storage and network video recorder solutions, committed to revolutionize how everyone from home user to enterprise level business centrally stores, manages and accesses their digital data both onsite and cloud-based. Thecus strives to deliver continuous innovation through cutting edge technology and design to provide data storage with the most customer-friendly platform, rapid performance and robust security. In May 2016, Thecus was formally acquired by Ennoconn Corporation and thus became part of the Foxconn IPC Technology group. Partnered together this diverse group of companies work in tandem to provide a total IoT (Internet of Things) solution. Now with an unparalleled portfolio to work with, Thecus is collaborating to bring unprecedented change to the network storage industry.