For sales inquiries,
please contact us at:


sales@thecus.com
For marketing inquiries, please contact us at:


marketing@thecus.com
2013-06-14
How to access your NAS from outside your home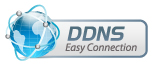 06/14/2013 – For most people, internet is an opaque concept. Its layer based structure allow end-users to use and interact with all those data transmission protocol without knowing more than how to use their software like Internet Explorer, their email client or their favorite FTP software.
Greatly for you guys, this article is not about all the different layers used for our daily internet communication. We will only concentrate on one aspect, level 3 which is responsible for the internet addressing and forwarding part. So, you may have heard about IP (Internet Protocol), or read about it. It is the main protocol used by this layer for addressing, classifying and routing communication over the network. There are two types of IP addresses, the IPv4 which uses 4 groups of numbers from 0 to 255, and the IPv6 represented by 8 groups of numbers separated by colons. The IPv6 is the newest and was created to solve the "near future" problem of shortage in internet addressee.
Thus, any machine (laptop, cellphone, computer, name it) that connected to the internet needs an address so they can route their communications. At this level, we only need those four digits; for example you can try the address http://173.194.72.101/ which is one of the numerous addresses used by Google for their servers. The usage of this type of addressing architecture is absolutely wonderful for machines but painful for human. So, engineer created a protocol (in layer 7) to facilitate the usage of IP addresses.
This protocol is called DNS, which is an acronym of Domain Name System. It is hosted by specialized server (usually setup automatically when you're connecting to the internet) that allows mapping between the real IP addresses and a human name. But by doing so, you also need to synchronize and create a directory of all those addresses; those machines are known as "root servers". Moreover, this synchronization process is not instantly and may require up to 72 hours for registering a new address. Maintaining and processing this registry is not free and that is where one part of your money goes when you purchase a domain name.
Now, suppose that you have a NAS at home with picture of your last born. You are visiting friends far from home and you want to show them those pictures. Using your smartphone you can connect to your NAS web interface and make a slide show for them. But you have only one problem, if you didn't pay both a domain name and a static IP (from your Internet Service Provider), you may not know what your NAS address is and how to reach it.
That is where the Intelligent NAS, available with the new Thecus® N2520 and N4520, can help you. During the first installation, Thecus® help you to setup a free DDNS (Dynamic Domain Name System). You simply need to register and chose which address you would like to use. Afterward, the NAS will resynchronize his current internet address with the Thecus® server and Thecus® will host and maintain the mapping between the real internet and your NAS address. And by consequence, if your address changes or you connect your NAS somewhere else, the change will be effective immediately. Your files will always be accessible anywhere you go without any worries.
For more information about the different transmission layers: http://en.wikipedia.org/wiki/OSI_model
For more information on the N2520, go to: http://www.thecus.com/product.php?PROD_ID=87
For more information on the N4520, go to: http://www.thecus.com/product.php?PROD_ID=86
---
About Thecus®
Established in 2004, Thecus Technology Corp provides market leading network attached storage and network video recorder solutions, committed to revolutionize how everyone from home user to enterprise level business centrally stores, manages and accesses their digital data both onsite and cloud-based. Thecus strives to deliver continuous innovation through cutting edge technology and design to provide data storage with the most customer-friendly platform, rapid performance and robust security. In May 2016, Thecus was formally acquired by Ennoconn Corporation and thus became part of the Foxconn IPC Technology group. Partnered together this diverse group of companies work in tandem to provide a total IoT (Internet of Things) solution. Now with an unparalleled portfolio to work with, Thecus is collaborating to bring unprecedented change to the network storage industry.