For sales inquiries,
please contact us at:


sales@thecus.com
For marketing inquiries, please contact us at:


marketing@thecus.com
2013-06-13
Seagate NAS drives compatible with Thecus® NAS.

06/13/2013- Seagate has partnered with Thecus to validate their new series of NAS focused hard drives. With the needs of home and enterprise users for persistent, always-on data servers, Seagate has designed a series of hard drive disks to fit into operating environments that demand a high level of performance and reliability.
Seagate NAS hard drives
Seagate NAS hard drives are designed for NAS systems with 1-5 bays requiring a combination of streaming and random performance. The drives are designed and extensively tested for compatibility in the unique 24x7 demanding system requirements of the home or small office NAS. They feature a reduced power profile, quiet acoustics, and come with the Seagate 3 year warranty. Already tested by Thecus® engineers, the Seagate NAS HDD series have passed internal testing with many of the Thecus devices. The following Thecus NAS units listed show great performance with Seagate's NAS HDDs:
Compatible Thecus® NAS Products:
Seagate NAS hard drives:

The Seagate Advantage: NASWorks

Seagate HDDs have proprietary features, known as NASWorks, to help the hard drives perform well under a typical NAS environment. The drives feature NAS extended error recovery controls which optimizes drive health. NASWorks also alerts the NAS unit when data takes longer than 7 seconds to recover, reducing the chances of a complete rebuild. Minimized vibration for 1-5 bay systems is achieved with NASWorks by balancing the drive and dampening the vibration with dual plane balance. Lastly, there is a low power to high performance ratio achieved by a balance of low power consumption and quick time-to-ready for an always-on environment with their Advanced Power Management feature.
With 1M hours MTBF in a multi-drive, 24x7 environment and a current capacity range of 2TB, 3TB and 4TB, the 3.5" SATA Seagate NAS HDD combined with the latest series of Thecus® NAS products like the Vision series (N2800, N4800 and N5550), users can reach a total storage pool of 8, 16 and 20TBs. And that is not counting the external hard drives that can be added to the NAS through their connectivity of USB 3.0 or eSATA ports.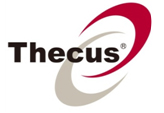 "The Seagate NAS HDD, part of the Seagate's excellent series of internal hard drives, is warmly welcomed to the compatibility list" said Florence Shih, general manager of Thecus®. "Thecus is proud to be able to support this NAS centered and energy efficient HDD."
Compatibility
The two latest devices from the Thecus® Vision series, the N4800Eco and the N5550, are of course compatible with the Seagate NAS HDD. The 4 bay and 5 bay NAS are both design and oriented towards multimedia applications. The two devices feature an HDMI output, which means that the users can directly stream movies, photos or music stored on their Seagate NAS HDDs to their HDTV screen. And with the SATA 6GB/S interface of the Seagate NAS HDD compatible with the Thecus® NAS; users can be assured fast transfer and smooth streaming.
For the complete compatibility list of Seagate HDD, go to:
http://www.thecus.com/sp_comlist.php
For more information on Seagate and their NAS hard drives, go to:
http://origin-www.seagate.com/internal-hard-drives/nas-drives/nas-hdd/
---
About Thecus®
Established in 2004, Thecus Technology Corp provides market leading network attached storage and network video recorder solutions, committed to revolutionize how everyone from home user to enterprise level business centrally stores, manages and accesses their digital data both onsite and cloud-based. Thecus strives to deliver continuous innovation through cutting edge technology and design to provide data storage with the most customer-friendly platform, rapid performance and robust security. In May 2016, Thecus was formally acquired by Ennoconn Corporation and thus became part of the Foxconn IPC Technology group. Partnered together this diverse group of companies work in tandem to provide a total IoT (Internet of Things) solution. Now with an unparalleled portfolio to work with, Thecus is collaborating to bring unprecedented change to the network storage industry.