For sales inquiries,
please contact us at:


sales@thecus.com
For marketing inquiries, please contact us at:


marketing@thecus.com
2008-08-18
The Leader in Digital Storage Turbo-Charges the Four-Bay NAS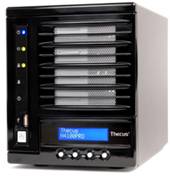 08/18/2008 – Beginning with the introduction of the N4100 NAS device, Thecus has rocked the world of digital storage with innovation after innovation. Today, Thecus is proud to reveal the brand new 4-bay NAS – N4100PRO. With powerful new RAID options, a built-in LCD, and vastly improved data throughput, the N4100PRO ups the ante once again with increased usability, functionality, and performance.
Powered by the AMD Geode™ LX800 processor and 256MB of DDR400 memory, the N4100PRO delivers the raw horsepower required to transfer files quickly and efficiently. With updated hardware and a ton of performance improvements, the data transfer speed of N4100PRO doubles that of the original N4100! Four 3.5" SATA hard disk bays enable up to 4TB of storage, and users can manage this space with an updated list of RAID mode selections, including 0, 1, 5, 6, 10 and JBOD. The N4100PRO also offers advanced RAID management features, including RAID expansion and RAID level migration for ultimate flexibility. To top it off, the N4100PRO comes equipped with a big, bright LCM module, which displays useful status messages such as IP address, date and time, and RAID status, making it easy for users to keep an eye on the condition of their N4100PRO. With features like these, the N4100PRO is easier to manage than ever.

"The feature-rich Thecus N4100PRO combines innovative design and the low-power, high-performance of the AMD Geode processor to deliver a robust storage solution," said Buddy Broeker, director of AMD's Embedded Computing Solutions Division. "The N4100PRO offers a compelling solution for households to easily store and share their digital media throughout the home network."
Of course, raw performance is nothing without reliability, and the N4100PRO delivers this in spades. On the back of the N4100PRO are two Gigabit Ethernet ports that come with network bonding in fail over mode. With this feature, the N4100PRO can automatically switch to its second Gigabit Ethernet port should the first one fail for any reason. To ensure quality of service, the N4100PRO also comes equipped with link aggregation with 802.3ad and load balancing. The result is a zero network downtime and increased reliability for N4100PRO users.
The N4100PRO also brings a huge selection of useful features to the table. To keep multimedia moguls happy, the N4100PRO can act as a media server, iTunes server, and photo web server at the drop of a hat. The included download manager makes it easy to schedule and download BT, HTTP, and FTP downloads during off-peak hours, and IP Cam support allows users to turn their N4100PRO into a home surveillance unit. The N4100PRO can mount ISO files and share them across the entire network, and users can even further expand its functionality with module support.
"We created the N4100PRO with speed and total security in mind," notes Thecus General Manager Florence Shih. "With new features, increased reliability, and enhanced performance, users will discover that the N4100PRO is a more than worthy successor for the four-bay N4100 that started it all."
For more information on the Thecus N4100PRO, check out:
http://www.thecus.com/products_over.php?cid=10&pid=77
---
About Thecus
Thecus® Technology Corp. specializes in IP Storage Server solutions, including Network Attached Storage (NAS) and Wireless Media Bank products. The company was established in 2003 with the mission to make technology as transparent and easy-to-use as possible, and to make products that are not only the best on the market, but are accessible to experts and novices alike. With a best-in-class R&D team highly experienced in storage hardware and software and with a keen customer focus, Thecus® stays close to the market to develop high-quality products to fulfill the storage needs of today's world.
For sales inquiries, please contact us via email: sales@thecus.com
For marketing inquiries, please contact us via email: marketing@thecus.com