For sales inquiries,
please contact us at:


sales@thecus.com
For marketing inquiries, please contact us at:


marketing@thecus.com
2008-08-12
"A great performer at a really good price"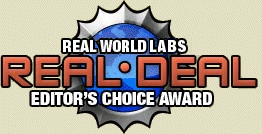 08/12/2008 – When performance at a good price is the order of the day, the N5200B PRO is the top pick of many storage enthusiasts. Recently, Real World Labs got their mitts on the 5-bay superstar from Thecus, and after dragging it through a series of grueling tests, decided that it was worthy of none other than their highly coveted Editor's Choice Award!
The N5200B PRO is quality through and through: "The construction of the N5200 Pro is that of a high quality PC case. The metal is thick and does not flex like those low cost PC cases and the black piano finish to the front makes it so you don't have to tuck it away out of site…Power, USB, and Ethernet cables are all included as is a software disk and pouch of screws and keys. Several extras are provided and from experience it is always good to have extras on hand because they tend to sometimes walk away on their own."
The performance of the N5200B PRO blows away other NAS units: "I currently own three Network Attached Storage devices and use them in my office daily. Of the three, the Thecus N5200 Pro transfers files the fastest. The Yellow Machine is by far the slowest and right in the middle is my Infrant ReadyNAS which lags behind the Thecus by 13-20 MB/s reading and writing. The Yellow Machine and ReadyNAS can only use four drives while the N5200 Pro is able to use five, one of the few small business NAS servers on the market to do so. When configured with five 1TB drives the N5200 gives 3.6 TB's worth of fully protected storage when running RAID 5."
The verdict? "The Thecus N5200 Pro is a great performer at a really good price. The unit comes with more than enough features to satisfy business and home users while giving you the flexibility to off with a small RAID array and build the system as the need arises. Now that I have one for my business I don't think I could live without it."
For the full review, check out:
http://www.rwlabs.com/article.php?id=19

For more information on the Thecus N5200B PRO, check out:
http://www.thecus.com/products_over.php?cid=11&pid=32

---
About Thecus
Thecus® Technology Corp. specializes in IP Storage Server solutions, including Network Attached Storage (NAS) and Wireless Media Bank products. The company was established in 2003 with the mission to make technology as transparent and easy-to-use as possible, and to make products that are not only the best on the market, but are accessible to experts and novices alike. With a best-in-class R&D team highly experienced in storage hardware and software and with a keen customer focus, Thecus® stays close to the market to develop high-quality products to fulfill the storage needs of today's world.
For sales inquiries, please contact us via email: sales@thecus.com
For marketing inquiries, please contact us via email: marketing@thecus.com