For sales inquiries,
please contact us at:


sales@thecus.com
For marketing inquiries, please contact us at:


marketing@thecus.com
2005-04-27
N4100 based on Intel® 80219 processor featuring Intel XScale® Microarchitecture
Dublin, Ireland - April 27-29, 2005 – Thecus® Technology Corp., a leading maker of IP storage solutions, demonstrated one of the initial products of its recently-Thecus® N4100 at the Intel® Solutions Summit 2005 (ISS) in Dublin Ireland, April 27 – 29. Thecus® N4100 storage appliance is based on Intel® 80219 processor featuring Intel XScale® Microarchitecture. Thecus® had great business developments in Intel®'s storage showcase zone.
Intel® Solutions Summit 2005 is the most important channel event for Intel® Premier Providers. Over 500 delegates are from 52 EMEA and 9 are from Latin American countries. In the expanded solutions, the showcase comprised a number of Intel®'s and leading third party's vendor stands. Intel®'s storage-based solution showcase drove many visitors looking for an exceptional solution for OEMs, VARs and storage Systems Integrators, including Intel® Premier Providers attending the summit, to offer to their end-users.
With the showcase of the N4100 storage appliance, Thecus® is one of the world's leading company to demonstrate a storage appliance based on the Intel® IOP 80219 that features Intel XScale® Microarchitecture for straightforward, scalable and secure storage that is affordable and easy-to-manage. The N4100 is a world-class terabyte-level network storage appliance with SATA technology and Gigabit Ethernet connectivity. The device also provides RAID 0, 1, 5, JBOD support and energy-savings of more than 35%.

From the left side:
Mr. Rodger E. Burkley--business development manager from USA
Intel Massachusetts, Inc
Ms. Camila Chang—Sales Director from Germany
Thecus Technology Corp.
Mr. Bryan Madden--Business Development Manager from Ireland.
Intel Communications Europe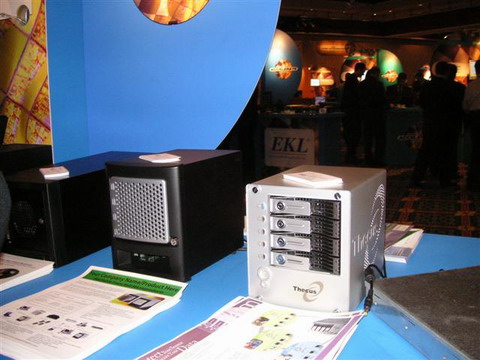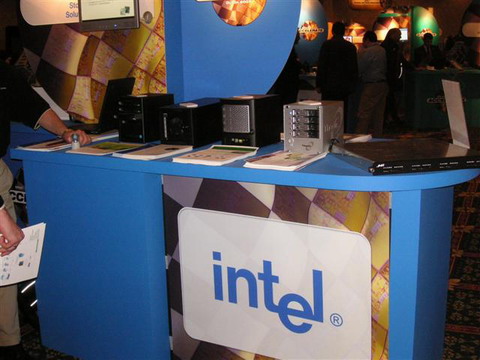 ---
About Thecus
Thecus® Technology Corp. specializes in IP Storage Server solutions. The company was established in 2004 with the mission to make technology as transparent and easy-to-use as possible, and to make products that are not only the best on the market, but are accessible to experts and novices alike. With a best-in-class R&D team highly experienced in storage hardware and software and with a keen customer focus, Thecus® stays close to the market to develop high-quality products to fulfill the storage needs of today's world.
For more information, please visit the Thecus® website at: http://www.thecus.com/
For sales and other inquiries, please contact us via email: sales@thecus.com