For sales inquiries,
please contact us at:


sales@thecus.com
For marketing inquiries, please contact us at:


marketing@thecus.com
2008-08-04
Power and flexibility of five-bay NAS blow away editors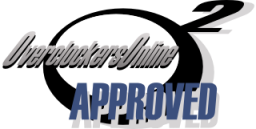 08/04/2008 – For hardware enthusiasts, speed is always of vital importance. The editors at Overclockers Online certainly understand this need for speed, and have recently tested Thecus' N5200B PRO. After subjecting the unit to a battery of tests, editors were so impressed with it that they decided to give it their Overclockers Online Approved award, citing its "unmatched performance"!
An initial glance reveals that the N5200B PRO is a quality unit: "The package does a great job summarizing key features and breaking down individual models in order to help customers decide on a network attached storage that best suits their needs… The front is fairly well designed: five hard drive cages, a LED indication panel, USB port, LCD panel, power and reset. Not to mention: black gloss, what is there not to love?"
The N5200B PRO features excellent components throughout: "Beneath the blue heatsink is the Intel Celeron M processor running at 1.5 GHz which should unleash the true potential of Gigabit Ethernet networking without the limitations of data processing…All of this is tied together with a custom built operating system running on a solid state flash module allowing quick and speedy access. Some of you may have noticed a distinct lack of wiring; this is due to a bit of elegance on Thecus' part. Everything from hard drives to power connects to the back of the motherboard keeping the insides clean and organized. And, speaking of power, I was very pleased to find a Seventeam power supply at the heart of the N5200 Pro. "
The Overclockers Online conclusion: "The Thecus N5200 Pro is no doubt, an awesome unit. It is flexible, fairly easy to use, and it's fast, oh let me tell you, it is fast. But, it also is not without a few kinks. When it comes to hardware, Thecus knows a thing or two and have assembled a cutting edge NAS powered by common everyday off-the-shelf hardware tied together with a custom mini-ITX motherboard, a combination resulting in unmatched performance...the N5200 as I said, is an awesome unit, but capable of much, much more."
For the full review, check out:
http://www.overclockersonline.net/?page=articles&num=1891&pnum=0
For more information on the Thecus N5200B PRO, check out:
http://www.thecus.com/products_over.php?cid=11&pid=32
---
About Thecus

Thecus® Technology Corp. specializes in IP Storage Server solutions, including Network Attached Storage (NAS) and Wireless Media Bank products. The company was established in 2003 with the mission to make technology as transparent and easy-to-use as possible, and to make products that are not only the best on the market, but are accessible to experts and novices alike. With a best-in-class R&D team highly experienced in storage hardware and software and with a keen customer focus, Thecus® stays close to the market to develop high-quality products to fulfill the storage needs of today's world.
For sales inquiries, please contact us via email:
sales@thecus.com
For marketing inquiries, please contact us via email:
marketing@thecus.com