For sales inquiries,
please contact us at:


sales@thecus.com
For marketing inquiries, please contact us at:


marketing@thecus.com
2008-07-21
"This RAID drive offers good performance at a reasonable price"

07/21/2008 – Since its introduction, users have been raving about the Thecus N3200 – the first three-bay NAS device to offer the speed and security of RAID 5. Recently, Macworld Magazine ran the N3200 through a gamut of tests, and in the end, discovered that it truly delivers a tremendous value, citing innovative features and ease-of-use. In fact, editors awarded the N3200 with a 4 out of 5 star rating, saying that "this RAID drive offers good performance at a reasonable price."
The N3200 has a great price versus performance ratio: "Pitched at both home users and small businesses, the N3200 offers a good combination of price and performance. Its three-drive set-up may look odd (most RAID systems are based around even numbers of drives), but for RAID 5 or RAID 0 array any number of drives over two works fine."
The advantages of RAID 5 are many: "RAID 5, using the N3200, enables all drives but 1 to be functioning. So if a single drive fails you can replace it without losing any data. In that sense, the three drives offered by the N3200 makes a lot of sense. You get the combined speed and storage of two drives, with a third acting as a spare to improve reliability. It's extremely unlikely that you'll lose two drives at once, so this system should provide foolproof backup."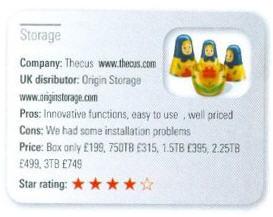 The N3200 is fully-featured and easy to use as well: "...using the Thecus Setup Wizard was painless, and the N3200's Web interface is notable for being the easiest to use -- no mean feat considering how many functions it has. Some of these are Windows only, but in general there's a lot on offer. Other innovations include the ability to attach a Webcam for a simple in-studio security system, and an eSATA port on the back for adding additional storage."
The conclusion: "The N3200 is slower than other drives on offer, but its performance was about the same as a four-drive Iomega StorCenter 150D. Considering the significant price difference between the devices, the N3200 is a clear winner."
For the full review, check out the August 2008 issue of Macworld Magazine.
For more information on the N3200, check out: http://www.thecus.com/products_over.php?cid=12&pid=48
For more information on Thecus, go to: http://www.thecus.com
---
About Thecus
Thecus® Technology Corp. specializes in IP Storage Server solutions, including Network Attached Storage (NAS) and Wireless Media Bank products. The company was established in 2003 with the mission to make technology as transparent and easy-to-use as possible, and to make products that are not only the best on the market, but are accessible to experts and novices alike. With a best-in-class R&D team highly experienced in storage hardware and software and with a keen customer focus, Thecus® stays close to the market to develop high-quality products to fulfill the storage needs of today's world.
For sales inquiries, please contact us via email: sales@thecus.com
For marketing inquiries, please contact us via email: marketing@thecus.com