For sales inquiries,
please contact us at:


sales@thecus.com
For marketing inquiries, please contact us at:


marketing@thecus.com
2013-04-11
Backup, local storage, sharing, antivirus and evolution needs now covered for Syronex

04/11/2013 –Syronex is the company behind the FormSmarts platform. FormSmarts is an online form builder and a cloud-based web form platform providing all you need to create forms, publish them in minutes and collect form responses online. Thousands of businesses, non-profits, educational institutions and governmental organizations rely daily on FormSmarts for their operations.
As a web-era company, Syronex is heavily dependent on offsite servers and cloud storage. We maintain servers in several datacenters for our operations and use cloud storage for all our backup needs. To avoid maintenance and administration overheads, we didn't have any on-site server or data storage appliance before getting the Thecus N5550 NAS.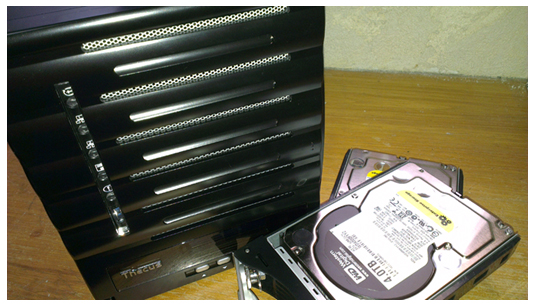 Backup, Local Storage and Sharing needs
With time it became apparent that even though our current offsite backup arrangement was suitably covering all critical data, it couldn't cover ALL data, mainly due to network latency issues. To mitigate the incidence of losing a hard drive or computer (major loss of productivity), we further needed to fully backup all computers (Mac OS X) and virtual machines used for development (VMware, Linux). For example, the downtime required to set up new machines without a full backup of the current machines was too great, therefore we had to delay the up-date to newer and more efficient computers.
The addition of an network-attached storage was the obvious solution, but we put off getting a NAS for some time because of the fear that the initial setup and administration of the appliance would require a substantial time investment.
While we were still considering whether or not to buy a NAS, other problems were surfacing. The new generation of SSD-based laptops we now use (MacBook Air) have a limited storage capacity. This was becoming an issue because most cloud storage solutions won't allow users to access data without creating a local copy. Using the NAS to mount a network drive in the file system would address this issue. Offering support for Apple's AFP/TimeMachine as well as NFS, the Thecus N5550 was the perfect fit for our Mac and Linux environment.
Antivirus Protection
Another technical concern was that we didn't have adequate virus and malware protection. We use operating systems (MacOS X & Linux) for which antivirus software is not readily available, so the best place to host antivirus protection was on the NAS. The Thecus N5550 conveniently offers a McAfee antivirus module, and since all data ends up on the NAS, all data will be scanned.
Installation
Setting up the N5550 NAS was all done in a matter of minutes. After fitting two 4TB hard drives into their respective bays, we powered on the appliance and went on to create a RAID 1 volume with encryption. Activating encryption requires an external USB flash drive to store the encryption key, assuring the disk-level security of the data stored on the NAS. Creating users, groups and folders was a breeze with Thecus' web-based administration console and enabling AFP for TimeMachine and NFS for Linux was equally painless.
I immediately went on to install the McAfee antivirus module in the Application Server tab and scheduled daily scans and automated updates of the virus signature database.
The N5550 is coping well with the daily 50 to 200GB transferred.
Room for Evolution
Beyond our initial setup with two 4TB HDs in RAID 1 configuration for data redundancy, the N5550 provides us with ample room for growth with three more bays.
In the coming weeks, we're planning on starting to integrate the N5550 into our multi-location/datacenter backup system, thanks in part to the device's built-in integration with Amazon S3. Having in-house expertise in Linux systems, we'll also be able to run our own software on the NAS to perform computational tasks such as encryption and automated backup verification.
To find out more about Syronex and FormSmarts, go to: http://formsmarts.com
Or visit their FB page: https://www.facebook.com/formsmarts?fref=ts
For more information on N5550, go to:http://www.thecus.com/product.php?PROD_ID=76
---
About Thecus®
Established in 2004, Thecus Technology Corp provides market leading network attached storage and network video recorder solutions, committed to revolutionize how everyone from home user to enterprise level business centrally stores, manages and accesses their digital data both onsite and cloud-based. Thecus strives to deliver continuous innovation through cutting edge technology and design to provide data storage with the most customer-friendly platform, rapid performance and robust security. In May 2016, Thecus was formally acquired by Ennoconn Corporation and thus became part of the Foxconn IPC Technology group. Partnered together this diverse group of companies work in tandem to provide a total IoT (Internet of Things) solution. Now with an unparalleled portfolio to work with, Thecus is collaborating to bring unprecedented change to the network storage industry.