For sales inquiries,
please contact us at:


sales@thecus.com
For marketing inquiries, please contact us at:


marketing@thecus.com
2008-07-18
New and improved five-bay NAS rips into the competition
07/18/2008 – The original N5200 brought unmatched reliability and performance to the NAS world. Now, Thecus has raised the bar once again with the N5200B PRO and the folks at c't Magazine recently took one for a test drive. After putting it against several other NAS units, editors found that the N5200B PRO offered incredible performance at a very reasonable price point!
c't Magazine begins with some of the many storage options available with the N5200B PRO: "This is the new version of the N5200 that we tested earlier. It can accommodate a maximum of five Serial ATA hard disks, which can be linked to a RAID 0, 1, 5, 6, and 10. This can also be configured individually, and you can even manage several RAID groups simultaneously on the same device. The capacity can be upgraded while the system is running. A part of the net storage volume can be reserved for iSCSI or as a USB disk. Thanks to a USB 2.0 port, the N5200B PRO can even be used as a giant hard disk."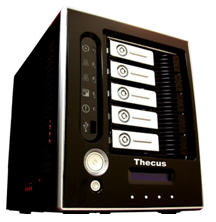 Being a Thecus product, flexibility and performance is always top notch: "The unit comes equipped with two separate Gigabit Ethernet ports that can be connected to different networks. The N5200B PRO also supports link aggregation (802.3ad) and can aggregate two physical Ethernet ports to a single logical one. The N5200B PRO can be configured to startup and shutdown at certain times via remote control Wake-On-LAN or through the web interface. Once up and running, it's easy to setup both users and groups, and the unit can even be upgraded through the use of modules. The N5200B PRO was one of the fastest units tested."
The c't verdict: "The NAS unit reviewed offers a much better compromise between energy efficiency and speed than the units we tested in the previous issue. When it comes to speed, Thecus is among the leaders. It offers a very reasonable price compared to the competition."
For the full review, check out the Issue 15 of c't Magazine.
For more information on the Thecus N5200B PRO, check out:
http://www.thecus.com/products_over.php?cid=11&pid=32
For more information on Thecus, go to: http://www.thecus.com
---
About Thecus
Thecus® Technology Corp. specializes in IP Storage Server solutions, including Network Attached Storage (NAS) and Wireless Media Bank products. The company was established in 2003 with the mission to make technology as transparent and easy-to-use as possible, and to make products that are not only the best on the market, but are accessible to experts and novices alike. With a best-in-class R&D team highly experienced in storage hardware and software and with a keen customer focus, Thecus® stays close to the market to develop high-quality products to fulfill the storage needs of today's world.
For sales inquiries, please contact us via email: sales@thecus.com
For marketing inquiries, please contact us via email: marketing@thecus.com