For sales inquiries,
please contact us at:


sales@thecus.com
For marketing inquiries, please contact us at:


marketing@thecus.com
2013-04-03
Implementing new ways to expand storage capacity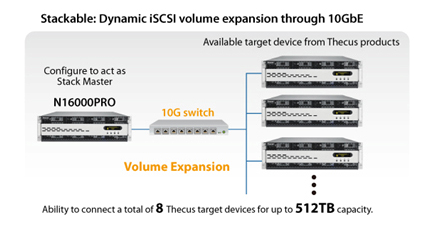 04/03/2013- Thecus® Volume Expansion Management offers an innovative way to get more storage space. This allows IT administrators or consumers to combine existing NAS devices to get more storage with the protection of RAID 5 or above. In fact, Thecus® rackmount NAS units that are compatible with 10GBASE-T have the ability to set up Volume Expansion Management.
Key benefits of Volume Expansion Management
Set up NAS for more storage space, JBOD
Combine up to eight Expansion Member Creations (logical disks)
Utilize RAID protection while under Volume Expansion Management
The call for more storage space
Volume Expansion allows the ability to stack NAS devices/HDDs to create an enormous volume of storage space. This is a significant concept, as it allows the combination through Ethernet to create a large hard drive data pool. When NAS units are combined and set up within the Expansion Management, JBOD is created which offers more storage.
Availability to arrange eight Expansion Member Creations
IT admin and consumers have the flexibly to stack up to eight Expansion Member Creations, logical disks, which provides a significant amount of storage space and reduces overall resources. When a logical HDD/Expansion Member Creation is created, the storage space transforms into a huge volume. Another way to absorb this concept is that each Expansion Member Creations are turned into a virtualized hard drive within the huge volume, which in return provides JBOD.
RAID protection within the volume
A key feature of expanding storage space via Volume Expansion is that the individual NAS devices named Expansion Member Creations aka logical disks are still protected by their original RAID 5. What this means is that if one of the NAS units within the volume fails, RAID 5 will protect the volume and not harm the overall JBOD. Users are able to micro manage the failed drive on the dedicated NAS and replace or fix the problem.
Overall, Volume Expansion Management is an innovative method to increase storage space and utilize RAID to protect the overall volume. Users who opt for more storage space have the choice to expand with Volume Expansion Management without utilizing more resources. The flexibility to add up to eight Expansion Member Creations provide a sufficient amount of space with the protection of RAID to manage and guard data.
---
About Thecus®
Established in 2004, Thecus Technology Corp provides market leading network attached storage and network video recorder solutions, committed to revolutionize how everyone from home user to enterprise level business centrally stores, manages and accesses their digital data both onsite and cloud-based. Thecus strives to deliver continuous innovation through cutting edge technology and design to provide data storage with the most customer-friendly platform, rapid performance and robust security. In May 2016, Thecus was formally acquired by Ennoconn Corporation and thus became part of the Foxconn IPC Technology group. Partnered together this diverse group of companies work in tandem to provide a total IoT (Internet of Things) solution. Now with an unparalleled portfolio to work with, Thecus is collaborating to bring unprecedented change to the network storage industry.