For sales inquiries,
please contact us at:


sales@thecus.com
For marketing inquiries, please contact us at:


marketing@thecus.com
2008-07-15
Premier 5-bay NAS blows away competition with stellar performance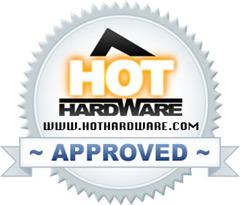 07/15/2008 – For users with a large amount of digital data, nothing is more frustrating that having to wait around for file transfers to finish. The N5200BR from Thecus packs some serious hardware under the hood to deliver performance that is second to none. The editors of Hot Hardware discovered just how powerful the N5200BR was after running it through a gamut of tests. In the end, Hot Hardware found it fitting to declare that the N5200BR is indeed Hot Hardware Approved!
Hot Hardware introduces the N5200BR: "From a hardware standpoint, the Thecus N5200BR NAS Server offers support for a total of 5TB of storage using SATA II drives in JBOD, RAID 0, 1, 5, 6 and 10 arrays, along with four switched Gigabit ports. The system also delivers some processing muscle with its 600MHz Celeron processor and 256MB of DDR memory."
Editors found that the performance was stellar: "With respect to transfer rates, the Thecus N5200BR truly shined. Using a 4.3GB ISO, we initiated a file copy from a Gigabit ready PC to each NAS server. In this test, the Thecus N5200BR ran nearly 4x faster than the QNAP system, moving over 4GB of data in less than two minutes...On the performance side of the equation, the Thecus N5200BR NAS Server was impressive."
The Hot Hardware conclusion? "The Thecus N5200BR NAS Server is one of several models available from the company that offer robust NAS capabilities in a compact design. With a great feature set that delivers solid overall performance, the Thecus N5200BR NAS Server should appeal to both business and home users looking for a complete NAS system."
For the full review, check out: http://www.hothardware.com/Articles/Thecus_N5200BR_NAS_Server/?page=1
For more information on the Thecus N5200BR, check out: http://www.thecus.com/products_over.php?cid=10&pid=8
For more information on Thecus, go to: http://www.thecus.com
---
About Thecus
Thecus® Technology Corp. specializes in IP Storage Server solutions, including Network Attached Storage (NAS) and Wireless Media Bank products. The company was established in 2003 with the mission to make technology as transparent and easy-to-use as possible, and to make products that are not only the best on the market, but are accessible to experts and novices alike. With a best-in-class R&D team highly experienced in storage hardware and software and with a keen customer focus, Thecus® stays close to the market to develop high-quality products to fulfill the storage needs of today's world.
For sales inquiries, please contact us via email: sales@thecus.com
For marketing inquiries, please contact us via email: marketing@thecus.com