For sales inquiries,
please contact us at:


sales@thecus.com
For marketing inquiries, please contact us at:


marketing@thecus.com
2008-07-10
Five-bay powerhouse rockets to the top of the performance charts
07/10/2008 – For SMB and enterprise users, being able to secure critical data and access it quickly is of utmost importance. With its low-voltage Intel® Celeron M processor and a beefy 512MB of DDR RAM, the Thecus N5200PRO fits this bill nicely. The editors of Small Net Builder recently took a close look at the N5200 PRO, and while the original N5200 remained near the top their NAS charts for almost two years, the N5200PRO set new speed records in 100Mbps average write performance, even surpassing its predecessor and a large field of competitors from companies like Synology, Iomega, Qnap, and Buffalo!
Small Net Builder introduces the N5200 PRO: "Thecus' N5200 has sat at or near the top of our NAS Charts for almost two years. Its design, based on a 600 MHz Celeron M with 256 MB of RAM, has managed to fend off challenger after challenger. But now comes the 5200 PRO, which Thecus is aiming at "Enterprise" users while positioning the 5200 for SMB/SME buyers. "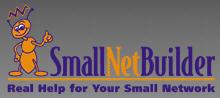 A faster processor and increased memory mean better performance: "With the faster processor, RAID rebuild times are shorter. For my configuration of five 160 GB drives, I clocked a RAID 5 rebuild and resync at ~2hr, 15 min and a RAID 10 four drive rebuild and resync at just about 3 hours."

To see the full chart, go to: http://www.smallnetbuilder.com/component/option,com_nas/Itemid,190/chart,10/
For more information on the Thecus N5200 PRO, check out:
http://www.thecus.com/products_over.php?cid=11&pid=32
For more information on Thecus, go to: http://www.thecus.com
---
About Thecus

Thecus® Technology Corp. specializes in IP Storage Server solutions, including Network Attached Storage (NAS) and Wireless Media Bank products. The company was established in 2003 with the mission to make technology as transparent and easy-to-use as possible, and to make products that are not only the best on the market, but are accessible to experts and novices alike. With a best-in-class R&D team highly experienced in storage hardware and software and with a keen customer focus, Thecus® stays close to the market to develop high-quality products to fulfill the storage needs of today's world.
For sales inquiries, please contact us via email:
sales@thecus.com
For marketing inquiries, please contact us via email:
marketing@thecus.com