For sales inquiries,
please contact us at:


sales@thecus.com
For marketing inquiries, please contact us at:


marketing@thecus.com
2005-08-23
Thecus partners with Intel to demonstrate the N4100 to event attendees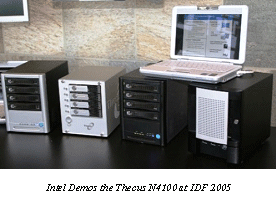 08/23/2005 – IDF Fall 2005 was filled with one exciting announcement after another. Taking place August 23-25, 2005, IDF gave attendees their first look at Intel's plans for the future. IDF is where the technology industry comes to show how they're pushing technology forward. As a leader in storage technology, Thecus was there to demonstrate how it is going to promote the advantages of NAS with the new N4100 IP storage appliance. As a tech industry authority, world renowned technology website The Inquirer was also in attendance to cover the exciting event.
The Inquirer reports on some of the misconceptions of NAS: "It is a common isconception that network attached storage (NAS) is too expensive and too complicated to integrate into small business networks. Traditionally NAS setups were designed with high ower, high cost processors, and expensive SCSI hard drives. NAS boxes also required ystem administrators to have an extensive knowledge of the proprietary operating systems that controlled them. This old philosophy is starting to change and has become very evident over the last two IDF conferences."
Today's NAS storage offers an interesting value proposition to small businesses: "The key concepts behind the designs are to bring the features of NAS down to an affordable price…Utilizing Intel's 80219 General Purpose PCI Processor, allowed the designers to incorporate a single chip solution that opened the door to cost-sensitive, high-performance appliances. This solution provides a 64-bit PCI-X interface which is fully backward compatible to PCI 2.2 standards enabling easy interface to lower-cost PCI componenst….SATA has finally reached the point where it is an inexpensive and stable platform for large amounts of data storage. The reduction in price of flash memory storage has also allowed product designers to increase the amount of features included in a product without significantly raising the costs."
The conclusion: "The entry-level NAS appliance solution will provide integrators with a less expensive alternative to traditional servers…This type of solution offers you the high-end performance, data protection and backup capabilities or a full blown server, at a price point that won't break your budget."
Check out the full coverage from The Inquirer here: http://www.theinquirer.net/?article=25645
For more information on IDF Fall 2005, go to: http://www.intel.com/idf/us/fall2005/index.htm
For more information on Thecus, go to: http://www.thecus.com
---
About Thecus
Thecus® Technology Corp. specializes in IP Storage Server solutions. The company was established in 2004 with the mission to make technology as transparent and easy-to-use as possible, and to make products that are not only the best on the market, but are accessible to experts and novices alike. With a best-in-class R&D team highly experienced in storage hardware and software and with a keen customer focus, Thecus® stays close to the market to develop high-quality products to fulfill the storage needs of today's world.
For more information, please visit the Thecus® website at: http://www.thecus.com
For sales and other inquiries, please contact us via email: sales@thecus.com