For sales inquiries,
please contact us at:


sales@thecus.com
For marketing inquiries, please contact us at:


marketing@thecus.com
2008-06-16
The YES Box scores 4 out of 5 stars for value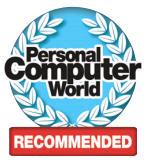 06/16/2008 – As Thecus' first 2-bay device, the YES Box N2100 continues to make headlines with its rich feature set, strong performance, and excellent versatility. The editors of Personal Computer World Magazine recently took a close look at the N2100, and after running it through a gamut of tests, saw it fitting to award it with 4 out of 5 stars and their coveted Recommended Award!
PCW editors love how robust the YES Box N2100 is: "The N2100 from Thecus is designed to be easy friendly and easy to use, yet manages to cram in plenty of features. The enclosure's chassis has a trio of USB ports for expansion and printer sharing, while a pair of Gigabit Ethernet ports enables it to server two networks simultaneously. You can also copy the contents of a USB disk onto the server instantly with a single button press."
The N2100 comes with many standard features, but add-on modules really put it over the top: "A web-based photo server lets users create photo albums that can be shared. All stored files can also be made available over the Internet using a browser-based interface. Another handy feature is the ability to mount ISO files as network shares. Thecus offers downloads that enhance the N2100's capabilities through plug-ins."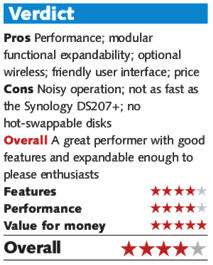 Performance is strong as well: "The N2100's file transfer speed should be more then adequate for all but the most highly demanding users and the Intel 80219 processor has more than enough power to maintain these tasks while running the various add-in modules."
The PCW verdict: "Overall a great performer with good features and expandable enough to please enthusiasts."
For the full review, check out the August 2008 issue of Personal Computer World Magazine.
For more information on the Thecus YES Box N2100, check out: http://www.thecus.com/products_over.php?cid=11&pid=1
For more information on Thecus, go to: http://www.thecus.com
---
About Thecus
Thecus® Technology Corp. specializes in IP Storage Server solutions, including Network Attached Storage (NAS) and Wireless Media Bank products. The company was established in 2003 with the mission to make technology as transparent and easy-to-use as possible, and to make products that are not only the best on the market, but are accessible to experts and novices alike. With a best-in-class R&D team highly experienced in storage hardware and software and with a keen customer focus, Thecus® stays close to the market to develop high-quality products to fulfill the storage needs of today's world.
For sales inquiries, please contact us via email:
sales@thecus.com
For marketing inquiries, please contact us via email:
marketing@thecus.com