For sales inquiries,
please contact us at:


sales@thecus.com
For marketing inquiries, please contact us at:


marketing@thecus.com
2013-02-07
Two ports for all you needs.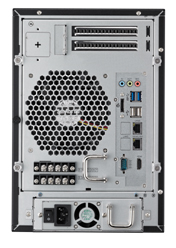 02/07/2013- Most of the Thecus® NAS are equipped with an HDMI and a VGA output. Both can be used to connect your NAS to a TV screen, a monitor or a projector. Anybody would agree that all of the above are better option than watching your media file on a tiny computer screen. But unfortunately, not every visioning device is equipped with the latest connectivity that technology has to offer. Let's see what the possibilities these two outputs have to offer.
VGA
We'll start with the VGA as it is the veteran. The tree letters stand for Video Graphic Array. It is a standard type of connection for video devices that was first introduced with the IBM PS/2 line of computers in 1987. Its popularity made it the standard for analog computer display. VGA connectors and cables carry analog component RGBHV (red, green, blue, horizontal sync, vertical sync) video signals, and VESA Display Data Channel (VESA DDC) data.
Resolution wise, although originally designed for a 640X480, it can display widescreen up to 1920x1080. However, the quality is disputable when using larger sized LCD or LED monitors or TVs. How discernible this quality difference is, depends on the individual's eyesight.
If the video quality can be satisfying, VGA finds its limitations in sound. As it carry only a video signal, the VGA can't transfer sound. Therefore, other measures need to be used to transmit that audio. Not to worry, Thecus® took care of this. All NAS equipped with a VGA output is also equipped with audio line out jacks that can transport the sound to some speakers for example.
HDMI
HDMI, High Definition Multimedia Interface, is a digital alternative to the analog VGA. It is an interface that transfers both audio and video data in an uncompressed form from your NAS to your compatible TV, for example. Much younger than VGA, the production of consumer HDMI products started in late 2003. HDMI was created by a group of major electronics manufacturers, including Hitachi, Philips, Sony, Toshiba and others.(1)
Like mention before, HDMI can carry both video and audio signal. But that is not the only reason why HDMI is preferred by most. As its name says, it enables high-definition transmissions. HDMI has the capacity to support existing high-definition video formats of 720p, 1080i, and even 1080p ("i" meaning inter-lacing and "p" meaning progressive).
Conclusively, as most already realized, HDMI is becoming the new standard. Therefore, with the HDMI equipped Thecus® NAS, you won't be held back by new developments in video/audio transmission. If you have invested in the past into display devises that uses VGA technology, the Thecus® NAS will cover your needs and ensure that your previous investments were profitable ones.
Reference:
(1) For a quick read on HDMI History:
http://www.tomsguide.com/us/hdmi-past-present-and-future,review-869.html
---
About Thecus®
Established in 2004, Thecus Technology Corp provides market leading network attached storage and network video recorder solutions, committed to revolutionize how everyone from home user to enterprise level business centrally stores, manages and accesses their digital data both onsite and cloud-based. Thecus strives to deliver continuous innovation through cutting edge technology and design to provide data storage with the most customer-friendly platform, rapid performance and robust security. In May 2016, Thecus was formally acquired by Ennoconn Corporation and thus became part of the Foxconn IPC Technology group. Partnered together this diverse group of companies work in tandem to provide a total IoT (Internet of Things) solution. Now with an unparalleled portfolio to work with, Thecus is collaborating to bring unprecedented change to the network storage industry.