For sales inquiries,
please contact us at:


sales@thecus.com
For marketing inquiries, please contact us at:


marketing@thecus.com
2013-01-31
Why, installation and settings

01/31/2013- After the announcement that Thecus® and McAfee teamed-up to provide comprehensive data protection solution, many users didn't understand the need for it. Why would a device with a Linux OS need an antivirus? If my computer is already protected, then why do I need more protections on my storage device?
The answer to these questions is simple, every platform is at risk. A perfect example for this is Apple, where nearly 600,000 Mac users were infected by a virus at the beginning of April 2012. Virus, worms and malwares can spread from multiple sources. Thecus® NAS can be placed on a network with multiple users, different platforms, using protocols like NFS, FTP, eMule or BT, so the threat can come at any moment from anywhere. Even if you are a safe user, maybe not everybody around you is. Which is why having an antivirus managing your NAS is as important as doing regular back-up.
Installation
After your Thecus® NAS is set-up and running, you are ready to add modules to it so that your NAS is customized to your own specific needs. Just like any other modules, go to the Thecus® website and find your device model number. In the download section click "module", scroll down to VirusScan and click to download. Once your download is completed, you'll need to log in to your NAS as the administrator. In the Application Server tab, use the Module Installation option to install VirusScan. After completion, make sure you press the play button in the action field and check the Show in Login box to enable the module and have access to it.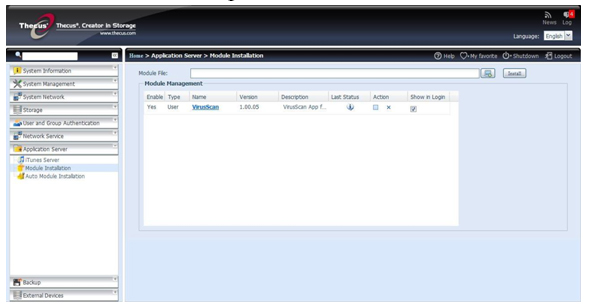 How to set-up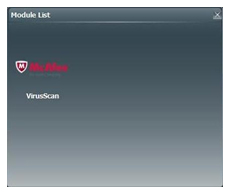 VirusScan was developed in partnership with McAfee. With VirusScan, users can rest assured that their vital data is protected with advanced features to eliminate possible threats. And to make sure it does so, we'll look at how to set it up properly.
When logging in to your NAS, after clicking the module icon, VirusScan will be accessible in your module list. Open it and you'll see that VirusScan gives you access to 3 sections. The first one is Scanner, this will be used to create and manage your scheduled scan. The second one is Update to make sure your NAS is protected against any new threats. The last one is Quarantine, which will let you manage the infected files.
Scheduling scans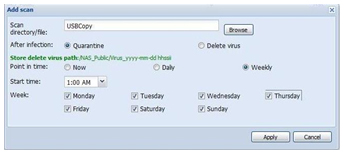 To ensure that you get the most protection out of VirusScan, you'll need to create some scheduled scans. This can be simply done by getting into the Scanner tab and clicking the Add+ button. From there you'll be able to add multiple scheduled scans (up to 10) to specific folders and choose rather if you want to quarantine the infected files or directly delete them and set the frequency of scan that is most convenient for you.
Updating
New viruses won't be a threat if you keep your antivirus up to date. A good thing about VirusScan is that you don't have to worry about manually up-dating it. With a quick set-up, this can be done automatically. Under the Update tab, just like a scheduled scan, you can select the frequency of the automatic updates. Don't want to wait until the next schedule? No problem, under the same tab you can also perform manual updates to ensure your NAS is protected against the newest viruses.

Embedded peace of mind
Additionally, from the VirusScan main window, you'll be able to consult when the latest scan and update were performed. So as you can see, having your data protected is very simple. With auto scans and updates, you can rest assured that everything will be safe without lifting a single finger.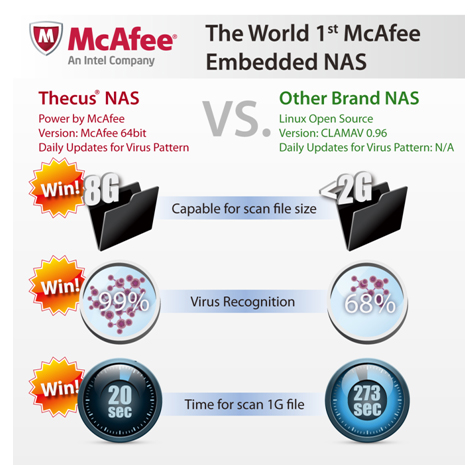 ---
About Thecus®
Established in 2004, Thecus Technology Corp provides market leading network attached storage and network video recorder solutions, committed to revolutionize how everyone from home user to enterprise level business centrally stores, manages and accesses their digital data both onsite and cloud-based. Thecus strives to deliver continuous innovation through cutting edge technology and design to provide data storage with the most customer-friendly platform, rapid performance and robust security. In May 2016, Thecus was formally acquired by Ennoconn Corporation and thus became part of the Foxconn IPC Technology group. Partnered together this diverse group of companies work in tandem to provide a total IoT (Internet of Things) solution. Now with an unparalleled portfolio to work with, Thecus is collaborating to bring unprecedented change to the network storage industry.