For sales inquiries,
please contact us at:


sales@thecus.com
For marketing inquiries, please contact us at:


marketing@thecus.com
2008-06-09
N3200 also impressed editors with strong RAID 5 performance

06/10/2008 – Recently, the editors at SweClockers took the Thecus N5200 PRO and N3200 for a test drive and the two NAS devices passed with flying colors. In fact, the N5200 PRO even won their coveted Recommended Award!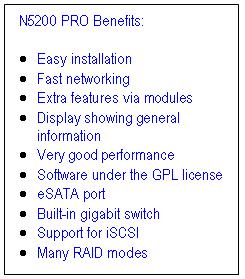 SweClockers loved the flexibility, RAID features, and iSCSI compatibility of the N5200 PRO: "It is not difficult to see that N5200 PRO has become a popular device among enthusiasts. First and foremost is the software released under the GPL license which means that anyone can modify and create modules or the entire operating system to the device. Thecus is basically alone in this market...Installation and setup is no problem with the N5200 PRO...RAID-handling is very smooth and robust…iSCSI was a pleasant surprise that is certainly appreciated by enthusiasts as well as businesses."
The N5200 PRO's performance is a definite highlight: "The biggest advantage of the N5200 PRO is, without doubt, performance. We have tested various NAS servers here on SweClockers in recent times but no one is going anywhere near the N5200 PRO."
Here's the conclusion for the N5200 PRO: "N5200 PRO is mostly an enthusiast's dream. There are almost endless functions and configuration possibilities, the device has a very good performance and has an attractive look. The only obvious drawback is the price, but for those who seek a NAS server which has very great potential and that beats most other products on the market in terms of performance, we again would recommend the N5200 PRO to anyone. The justification above has given the Thecus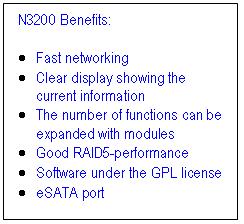 N5200 PRO our Recommended Award."
SweClockers also reviewed the Thecus N3200 and found a lot to like about it: "Its performance is impressive and is in most tests faster than the much more expensive TS-409 Pro from Qnap...Something to be mentioned is also very good RAID5-performance which is relatively unusual in these types of products. In summary the N3200 is a very competent product. It is easy to install, operate and has good performance."
For the full N5200 PRO review, check out:
http://www.sweclockers.com/articles_show.php?id=6067&page=1
For the full N3200, check out: http://www.sweclockers.com/recension/6060-thecus_n3200
For more information on Thecus, go to: http://www.thecus.com
---
About Thecus
Thecus® Technology Corp. specializes in IP Storage Server solutions, including Network Attached Storage (NAS) and Wireless Media Bank products. The company was established in 2003 with the mission to make technology as transparent and easy-to-use as possible, and to make products that are not only the best on the market, but are accessible to experts and novices alike. With a best-in-class R&D team highly experienced in storage hardware and software and with a keen customer focus, Thecus® stays close to the market to develop high-quality products to fulfill the storage needs of today's world.
For sales inquiries, please contact us via email: sales@thecus.com
For marketing inquiries, please contact us via email: marketing@thecus.com