For sales inquiries,
please contact us at:


sales@thecus.com
For marketing inquiries, please contact us at:


marketing@thecus.com
2013-01-21
"Network Storage a notch above"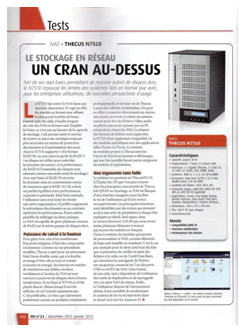 01/21/2013 – "The N7510 brings NAS to a new dimension". Once again Thecus® comes out strong from a new review. Stopping in France by the well know IT print magazine EDI, it was turn for the Thecus® N7510 to stand tall.
Assets
RAID 50 support

Multimedia functionality

Very high performance
RAID 50
The 7 bays, powerful Intel® Atom™ processor and 2GB of DDR3 RAM gives the ability to the N7510 to support more complex RAID levels such as RAID 50. "Staking up bays is not only adding up storage space. This allows to additionally and mainly set in place more secure strategies in term of data protection and access optimization. This way the N7510 supports RAID 50, a mix between the parity of RAID 5 and the performance of RAID 0. With seven bays, RAID 50 secures data but uses less resource than RAID 10. It has a perfect balance between performance, capacity and sustainability."

While concluding on the Thecus OS 5.0 "the ThecusOS 5.0 interface is one of the most user-friendly from the available NAS on the market.", E.D.I. also pointed some of the great modules available, such as the virus protection brought by McAfee in the Virus Scan module, the burning management of data to optical disks with Data Burn and the multiple backup solution offered by Data Gard.
You can find the complete review (in French) of the N7510 in the January 2013 issue of the E.D.I. magazine.
For more information on the N7510, go to:
http://www.thecus.com/product.php?PROD_ID=80
---
About Thecus®
Thecus® Technology Corp. specializes in IP Storage Server and Network Video Recorder solutions. The company was established in 2004 with the mission to make technology that is as transparent as it is easy-to-use and products that are not only the best on the market, but are accessible to experts and novices alike. Combining a world-class R&D team highly experienced in storage hardware and software development with a keen customer focus, Thecus® stays close to the market to develop high-quality products to fulfill the storage and surveillance needs of today's world.
For sales inquiries, please contact us via email: sales@thecus.com
For marketing inquiries, please contact us via email: marketing@thecus.com