For sales inquiries,
please contact us at:


sales@thecus.com
For marketing inquiries, please contact us at:


marketing@thecus.com
2008-05-29
Australasia's largest tech show experiences the latest in digital storage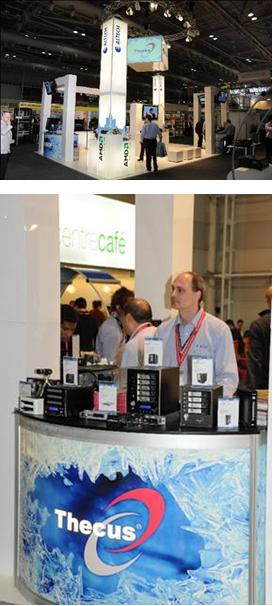 05/29/2008 – Welcoming nearly 35,000 business professionals from across the globe, CeBIT Australia is Australasia's largest and most important business-to-business technology event. Thecus and Altech went to Sydney's Darling Harbour Exhibition Centre from May 20th to 22nd to display Thecus' latest advances in digital storage technology.
CeBIT Australia is Australia's leading information and communications technology event for the business marketplace. This is the only Australian event where large and high level audience of business decision makers and buyers come to see the latest and greatest solutions available. Partnered with leading distributor Altech, Thecus was there to show off Thecus' line up of NAS devices, including such models as the N1200, N299, N3200, N4100+, N5200BR, and 1U4500.
"CeBIT Australia 2008 was another dynamite opportunity for us to display our latest digital storage devices to both business decision makers and the general public," notes Thecus General Manager Florence Shih. "We were happy to cooperate once again with our partners at Altech for the show and look forward to next year's event!"

For more information on CeBIT Australia, go to:
http://www.cebit.com.au/main/about/index.asp
For more information on Altech Computers, go to:
http://www.altech.com.au/
For more information on Thecus, go to:
http://www.thecus.com
---
About Thecus

Thecus® Technology Corp. specializes in IP Storage Server solutions. The company was established in 2004 with the mission to make technology as transparent and easy-to-use as possible, and to make products that are not only the best on the market, but are accessible to experts and novices alike. With a best-in-class R&D team highly experienced in storage hardware and software and with a keen customer focus, Thecus® stays close to the market to develop high-quality products to fulfill the storage needs of today's world.
For sales inquiries, please contact us via email:
sales@thecus.com
For marketing inquiries, please contact us via email:
marketing@thecus.com