For sales inquiries,
please contact us at:


sales@thecus.com
For marketing inquiries, please contact us at:


marketing@thecus.com
2005-11-04
User friendliness and space-saving design wins over editors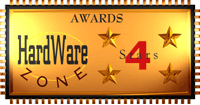 11/04/2005 – Designed with the enterprises and SOHOs in mind, the Thecus N4100 is built with not only an impressive feature set, but also with ease of implementation in mind. The editors from HardWare Zone recently had a chance to test this versatile storage device, and were blown away with its ease-of-use and space saving design, noting that it was a better value than alternative solutions.

HardWare Zone editors begin by introducing the N4100: "The Thecus N4100 is a unique solution for SOHOs and home users who want a simple and easy to configure network storage appliance. Equipped with four drive bays, the Thecus N4100 will support up to four hard disk drives in a RAID configuration. Users can choose to build either RAID 0, 1, 5 or JBOD through Thecus' web-based GUI. Beginners should find the product rather easy to use, as most of the options are pretty straightforward."

Speaking of ease-of-use, installation and set up doesn't get any easier than with the N4100: "There is hardly much effort needed in setting up the hard disk drives with the Thecus N4100 as everything is already built into the little black box. All you need to do is purchase four hard disk drives of the same capacity (and preferably model), then fasten them to the removable trays and insert them into the Thecus N4100. Yes, that's all and it's that simple...What we particularly like with the Thecus N4100 is the user-friendliness of its web-based GUI. It comes with all the various options to configure the drives and the network shares effectively...It even supports Active Directory services and that is a big plus for companies looking for a simple network attached storage solution for their domains."


The verdict? "Although you can probably build a desktop PC with the same amount of storage capacity with the same hardware cost, what usually eludes buyers is the fact that one should also consider the cost of the operating system as well. Large network shares require a Windows Server operating system, which can easily inflate the setup cost, and not to mention Client Access License (CAL) fees as well. Of course, the cheaper alternative would be building a Linux-based SAMBA share but such an option is usually only for those with good in-depth Linux knowledge. Considering these alternative options, the Thecus N4100 does offer users the better value - not to mention its tremendous space saving design as well. Costing about US$799, this tiny little black box is recommended for small workgroups who want to integrate readily accessible networked shares from a convenient and easy-to-use device."


For the full review, check out:
http://www.hardwarezone.com/articles/view.php?cid=10&id=1739
For more information on the N4100, go to:
http://www.thecus.com/products01.asp?RID=35&ID=35&WebID=1
For more information on Thecus, go to: http://www.thecus.com/
---
About Thecus
Thecus® Technology Corp. specializes in IP Storage Server solutions. The company was established in 2004 with the mission to make technology as transparent and easy-to-use as possible, and to make products that are not only the best on the market, but are accessible to experts and novices alike. With a best-in-class R&D team highly experienced in storage hardware and software and with a keen customer focus, Thecus® stays close to the market to develop high-quality products to fulfill the storage needs of today's world.

For more information, please visit the Thecus® website at:
http://www.thecus.com/
For sales and other inquiries, please contact us via email:
sales@thecus.com