For sales inquiries,
please contact us at:


sales@thecus.com
For marketing inquiries, please contact us at:


marketing@thecus.com
2013-01-15
Different advantages for different needs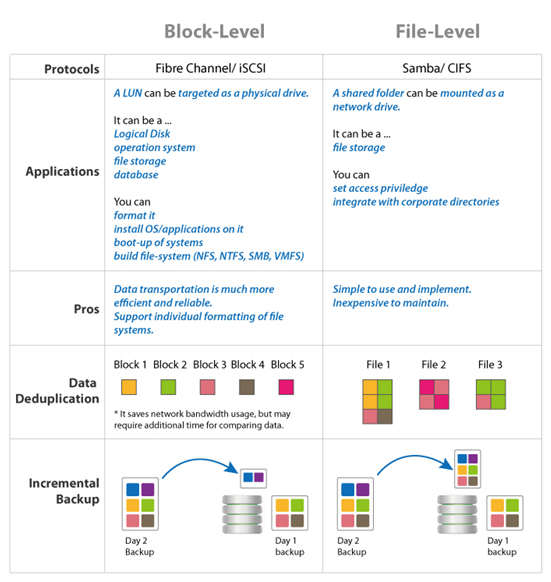 01/15/2013 – As you can see above, block level storage and file level storage offer many differences. Since not everyone is an IT professional and to make sure these charts makes sense to all, we'll go into details about every part and what they mean.
Protocols and applications
To communicate with the storage device, block level storage uses iSCSI or FCoE where file level storage is more commonly used with Samba or CIFS. To the user, this means that block level will appear basically as another hard drive on their machine, although it is on a remote location. This hard drive can be formatted, partitioned, used to run an OS, fixed to one user, etc... For file level users though, the storage area is accessed remotely and is used to store and retrieve files from only. This space can be shared with many users and restrictions can be set for access. But roughly speaking, this place is used to dump files into a commonly accessible location.
Pros
Both storage systems have their advantages. iSCSI and FCoE protocols for block level are simpler, creating fewer layers for the data to commute from your storage device to your computer and vice versa. This result in an increase transfer speed for block level storage. While file level is slower than its counterpart, it is a much simpler to implement system and requires very little maintenance. We can't unfortunately say to the same for block level which most likely will have dedicated personnel to setup and maintain the system.
Data deduplication
One of the biggest difference between block and file level storage is how the data is deduplicated. This feature simply eliminates redundant information on a same storage area. File level storage is the simpler of the two. With file level, if two identical files are found, only one copy is kept; and if that file is slightly modified, a new version is created. This method saves some space but not as effectively as our other option. Block level divides each files into many blocks, if any blocks are identical throughout the storage area, the redundant copies are eliminated. This method reduces considerably the spaced used for many files with similar information.
For example, a user creates a file named "Project", later he goes to revise that project and saves the new version as "Project_R1". Although the file "Project" and "Project_R1" are 90% similar, with file level two complete copies are kept on the storage area. With block level, only the 10% that is not similar from the "Project_R1" is modified and stored, reducing considerably the space used.
Backup
As for backup, both level offers incremental back-up solution. For example, if all the information from the storage has already been backed up to a remote location, with file level, the complete new version of the file is copied over. For the block level backup, as the file is separated in blocks, only an image of each block is being copied to a remote location. This reduces the size of the backup and the amount of data being transfer during the process.
Conclusion
Both solutions have their advantages and disadvantages. Depending on your need, be sure to study which of block level or file level will be more appropriate for you. Thecus® is dedicated to offer the most options to best manage your storage space. Most Thecus® NAS supports both file level and block level solution.
---
About Thecus®
Established in 2004, Thecus Technology Corp provides market leading network attached storage and network video recorder solutions, committed to revolutionize how everyone from home user to enterprise level business centrally stores, manages and accesses their digital data both onsite and cloud-based. Thecus strives to deliver continuous innovation through cutting edge technology and design to provide data storage with the most customer-friendly platform, rapid performance and robust security. In May 2016, Thecus was formally acquired by Ennoconn Corporation and thus became part of the Foxconn IPC Technology group. Partnered together this diverse group of companies work in tandem to provide a total IoT (Internet of Things) solution. Now with an unparalleled portfolio to work with, Thecus is collaborating to bring unprecedented change to the network storage industry.