For sales inquiries,
please contact us at:


sales@thecus.com
For marketing inquiries, please contact us at:


marketing@thecus.com
2013-01-10
Thecus® cover your data storage needs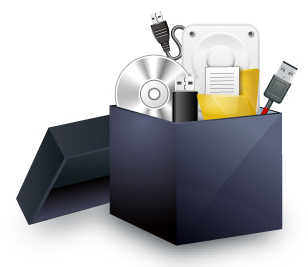 01/10/2013 – A new device has been gaining in popularity in the IT websites and magazines; more and more people get to read news and review about NAS and NAS technology. For those not familiar with this storing device, the first question that comes to their mind is: What is that, what can it do for me or why would I need one? But the real question that should be asked is what it can't do for you. A NAS is a multipurpose complement to your IT environment and its capabilities shouldn't be underestimated.
If you have a computer at home or at work, the chances are that you generate and need digital data pretty much every day. It can be pictures from your last week-end road trip or a presentation that you need to give to your potential customer. Regardless the use for it, that data is valuable, it needs to be stored, it needs to be accessed when you need it and it needs to be secured so that no one can steal it or take advantage of it. Good news, a NAS can do all that and even more!
The home user
Let's go with an example. Joe is an average guy living in an average city. Device wise, Joe is fully equipped; laptop, PC, digital cameras, smartphone, sound system and HDTV (yes, he has a pretty good income). But Joe has a problem, space restriction, not because he's TV is too big, but because his video, music, pictures and personal files are filling up his computer storage capacity. There is only one solution, buy more space. That's when Thecus® jumps in and tells Joe that a black box could be the solution he is looking for.
Joe: "A black box you say, but what is this mysterious device?"
Thecus: "Before I tell you what it is, tell me what your needs are and we will see if we can match them."
Joe: "I need more space."
Thecus: "No problem! The black box can host from 2 to 10* HDDs or SSDs of 2,5" or 3,5". And if you reach the limit of all your HDDs, don't worry, the black box is expandable."
Joe: "I need quick access to my files."
Thecus: "The black box's got it covered. It can be accessed by multiple users from all kind of platforms (iOS, Microsoft, Linux, UNIX). As it is setup on your network, all you devices have access to it, even over the internet (securely of course). The black box is supported by a powerful processor and lots of RAM to assure that your data travels from your device to your black box in no time. Additionally, two Ethernet ports are available on the black box and link aggregation is supported, making transfers even faster."
Joe: "What about security, are my files protected in any way?"
Thecus: "The black box offers many forms of data protection. It ranges from data redundancy, many forms of back-up solution (local, remote, cloud, etc), antivirus protection, secure access over the internet, user or group restrictions and some more."
Joe: "How about music and movies, can I play them anywhere else then on my computer?"
Thecus: "Well of course! The black box offers different options in that regard. If your TV, sound system or even your electronic picture frame are DLNA compliant, the black box can manage to communicate with these devices and display your media files. You can also connect the black box directly to your HDTV via HDMI cable and play your movies without the need of a computer. Additionally, many smartphone/tablet applications exist to make the streaming of your media files easier."
Joe: "If I'm out of the house, will I have access to my files somehow?"
Thecus: "Yes you will! Phone access through dedicated application, cloud access and remote access via internet is all possible with this black box. You can upload documents/photos or any types of files as you go. You can also use it as a web server, print server, BT manager and many more options. The black box is versatile, easily manageable, fully accessible and secure."
Joe: "Ok well, it seems to cover all of my needs. So what is this black box?"
Thecus: "It's a NAS (Network Attached Storage). A NAS can centralize all of your data, secure them and share them across your network."
Conclusion
All NAS from Thecus® can offer these great options and more. Many modules are available to customize your NAS to your need. To learn more about what a NAS can do for you, Thecus® has created a lot of information which is available online. Please follow these links and discover for yourself how a black box can help you to organize and simplify your digital life.
Thecus® classroom: http://www.thecus.com/sp_classroom.php
Thecus® official forum: http://forum.thecus.com/
Thecus® blog: http://blog.thecus.com/
Facebook page: https://www.facebook.com/Thecus?v=wall
Youtube channel: http://www.youtube.com/thecusstorage
Twitter: http://twitter.com/Thecus_Storage
*Tower NAS ranges from 2 to 10 bays, for rackmount NAS, it ranges from 4 to 16 bays.
---
About Thecus®
Established in 2004, Thecus Technology Corp provides market leading network attached storage and network video recorder solutions, committed to revolutionize how everyone from home user to enterprise level business centrally stores, manages and accesses their digital data both onsite and cloud-based. Thecus strives to deliver continuous innovation through cutting edge technology and design to provide data storage with the most customer-friendly platform, rapid performance and robust security. In May 2016, Thecus was formally acquired by Ennoconn Corporation and thus became part of the Foxconn IPC Technology group. Partnered together this diverse group of companies work in tandem to provide a total IoT (Internet of Things) solution. Now with an unparalleled portfolio to work with, Thecus is collaborating to bring unprecedented change to the network storage industry.