For sales inquiries,
please contact us at:


sales@thecus.com
For marketing inquiries, please contact us at:


marketing@thecus.com
2008-05-23
Rackmount SATA storage device earns 4 out of 5 stars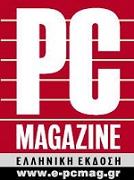 05/23/2008 – When it comes to data, serious businesses can't afford to take any chances. They need a stable storage solution with good data throughput to keep their organizations running. PC Magazine Greece recently took a look at such a device: the 1U4500 from Thecus. After a series of rigorous tests, editors were very impressed with the unit and decided to give it a 4 out of 5 star rating!
Here's a short introduction of the 1U4500: "We have already said it and we will say it in every copy of our magazine, that data are the most valuable thing for our company. The addition of a NAS in your network may release precious resources of your file server and on the other hand offer safe storage of your data,

which you can go back to in case something goes wrong. The Thecus 1U4500 is for big companies and organizations which require more complete solutions and better safety for their data."
The 1U4500 can adapt to virtually any network: "It is for installation in racks and its size is 1U. It accepts up to 4 SATA drives with storage up to 1TB in each one, and each can be replaced while the system is in operation. The administrator of the network has the possibility of selecting between various RAID modes to better suit his needs, and also the level of safety that he wishes. The management of NAS is done via a web-based environment."
The performance of the 1U4500 is top notch: "As far as its performance is considered, the Thecus 1U4500 succeed to amaze us pleasantly because was faster than other products in the same category, that however gain "points" from the side of equipment and characteristics."
The conclusion? "Overall, if you want a fast and sure solution for your data, the Thecus 1U4500 can cover your needs."


For the full review, check out the April 2008 issue of PC Magazine Greece.
For more information on the Thecus 1U4500, check out:
http://www.thecus.com/products_over.php?cid=11&pid=8
For more information on Thecus, go to:http://www.thecus.com

---
About Thecus

Thecus® Technology Corp. specializes in IP Storage Server solutions, including Network Attached Storage (NAS) and Wireless Media Bank products. The company was established in 2003 with the mission to make technology as transparent and easy-to-use as possible, and to make products that are not only the best on the market, but are accessible to experts and novices alike. With a best-in-class R&D team highly experienced in storage hardware and software and with a keen customer focus, Thecus® stays close to the market to develop high-quality products to fulfill the storage needs of today's world.
For sales inquiries, please contact us via email:
sales@thecus.com
For marketing inquiries, please contact us via email:
marketing@thecus.com