For sales inquiries,
please contact us at:


sales@thecus.com
For marketing inquiries, please contact us at:


marketing@thecus.com
2008-05-15
Huge group test awards N5200B the Golden Monitor Award
05/16/2008 – When stacked up against the competition, it's easy to see why users prefer Thecus NAS solutions time and time again. In their May 2008 issue, Monitor Magazine from Slovenia took an in-depth look at a large selection of NAS devices, and after pitting them against each other, discovered that the N5200B was the best of the bunch, and awarded it with their coveted Golden Monitor Award!
Here's the conclusion from the roundup: "We tested wide range of products, efficiency and price wise. The Golden Monitor Award out of NAS products definitely goes to the Thecus N5200B. This is the only product tested this time, which gives us possibility to use 5 hard drives, is fast enough and offers a variety of options. With pricing, which is still hard reachable for the competition, it is the best choice for small and medium businesses."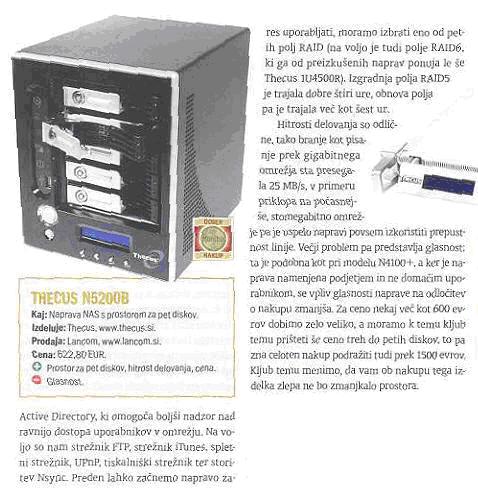 For the full review, check out the May 2008 issue of Monitor Magazine.
For more information on the Thecus N5200B, check out: http://www.thecus.com/products_over.php?cid=11&pid=8
For more information on Thecus, go to: http://www.thecus.com
---
About Thecus
Thecus® Technology Corp. specializes in IP Storage Server solutions, including Network Attached Storage (NAS) and Wireless Media Bank products. The company was established in 2003 with the mission to make technology as transparent and easy-to-use as possible, and to make products that are not only the best on the market, but are accessible to experts and novices alike. With a best-in-class R&D team highly experienced in storage hardware and software and with a keen customer focus, Thecus® stays close to the market to develop high-quality products to fulfill the storage needs of today's world.
For sales inquiries, please contact us via email: sales@thecus.com
For marketing inquiries, please contact us via email: marketing@thecus.com