For sales inquiries,
please contact us at:


sales@thecus.com
For marketing inquiries, please contact us at:


marketing@thecus.com
2008-05-16
"Speedy performance and big capacity, all from one convenient location"

05/16/2008 – For NAS users looking for not only large capacity but speedy performance, it just doesn't get much better than the five-bay N5200B PRO from Thecus Technology. Sporting a quick Intel® Celeron M CPU and 512MB of memory, the N5200B PRO truly delivers the goods. The editors of HWM Singapore recently tested the N5200B PRO, and liked it so much, decided to bestow it with their coveted Gold Award and a final score of 9 out of 10!
HWM begins with a short introduction: "The Thecus N5200B PRO is a five-bay hot swappable RAID NAS device that features a low voltage Intel Celeron M processor running at 1.5GHz and 512MB of DDR333 memory. It comes with its own set of storage management software based on Linux that either gives you the controls you need to find tune the device to work in your networked environment, of simply set up as a plug-and-play device."
The N5200B PRO offers performance in spades: "In terms of performance, we were simply awed by its ability to crunch through all the workloads thrown at it. Compared to most other NAS devices we've tested previously, the N5200B PRO is probably one of the faster one's we've seen so far. Even with processing intensive RAID arrays such as RAID 5 and 6, the N5200B PRO appears to have no problem with data throughput. To our surprise, its RAID 5 performance was even better than a 1TB SATAII drive connected directly to the PC."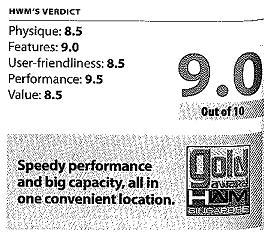 Here's the HWM verdict: "Overall, the Thecus N5200B PRO is one mean network storage device that should fit very well into most environments. Although the Thecus N5200B PRO may seem like an expensive storage device but considering its enterprise-class features, the versatility and the performance of the product, we feel it's worth the investment after all."
For the full review, check out the May 2008 issue of Monitor HWM Singapore Magazine.
For more information on the Thecus N5200B PRO, check out:
http://www.thecus.com/products_over.php?cid=12&pid=32
For more information on Thecus, go to: http://www.thecus.com
---
About Thecus

Thecus® Technology Corp. specializes in IP Storage Server solutions, including Network Attached Storage (NAS) and Wireless Media Bank products. The company was established in 2003 with the mission to make technology as transparent and easy-to-use as possible, and to make products that are not only the best on the market, but are accessible to experts and novices alike. With a best-in-class R&D team highly experienced in storage hardware and software and with a keen customer focus, Thecus® stays close to the market to develop high-quality products to fulfill the storage needs of today's world.

For sales inquiries, please contact us via email:
sales@thecus.com
For sales inquiries, please contact us via email:
marketing@thecus.com