For sales inquiries,
please contact us at:


sales@thecus.com
For marketing inquiries, please contact us at:


marketing@thecus.com
2008-04-15
Flexibility and performance blow editors away

04/18/2008 – The Thecus' N5200B PRO is capturing the hearts of PC enthusiasts everywhere. The latest review comes from the editors at Hardware Zone. After taking the 5-bay wonder for a test drive, they liked it so much that they decided to award it with 4.5 out of 5 stars!
The N5200B PRO is incredibly flexible, able to work with different networks and protocols: "Unlike most low-cost NAS devices, the N5200 PRO is actually quite packed with features. As a start, the device will integrate well into most networks, whether Windows or Apple. Under Windows, the device can even sync with the NT domain server for authentication purposes…Besides that, other modes of transfers are also available through other protocols such as Apple Filing Protocol (AFP), Network File System (NFS), FTP and HTTP."
Installation is a snap: "…we finally got hold of five huge identical 1TB hard drives from Hitachi GST. We installed the drives, booted up the N5200 PRO and it immediately detected all five of them. There were no issues with wrong volume size, spin-ups or drive recognition. Everything worked perfectly as it should."
Performance was off the charts: "Most NAS devices featuring RAID 5 would normally fail miserably in transfer rates, but the N5200 PRO was surprisingly good at handling RAID 5 and 6 to the point that its transfer rates and response times were almost as good as RAID 0…The results above were truly surprising."
The verdict? "Overall, the Thecus N5200 PRO is one mean network storage device that should fit very well into most users' requirements...We are contented enough to know that it performs extremely well as a standalone network attached storage device…if you consider its enterprise-class features, the versatility and the performance of the product, we feel it's worth the investment after all."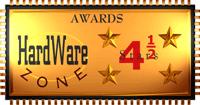 For the full review, check out:
http://www.hardwarezone.com/articles/view.php?cid=10&id=2536
For more information on the Thecus N5200 PRO, check out:
http://www.thecus.com/products_over.php?cid=12&pid=32
For more information on Thecus, go to:
---
About Thecus
Thecus® Technology Corp. specializes in IP Storage Server solutions, including Network Attached Storage (NAS) and Wireless Media Bank products. The company was established in 2003 with the mission to make technology as transparent and easy-to-use as possible, and to make products that are not only the best on the market, but are accessible to experts and novices alike. With a best-in-class R&D team highly experienced in storage hardware and software and with a keen customer focus, Thecus® stays close to the market to develop high-quality products to fulfill the storage needs of today's world.
For sales inquiries, please contact us via email: sales@thecus.com
For marketing inquiries, please contact us via email: marketing@thecus.com